Egg salad is a fast and easy snack or light lunch if you keep hard-boiled eggs ready to go. This version relies on fresh dill, lemon, and everything-but-the-bagel seasoning for big flavor (along with just a touch of light mayo for creaminess).
Servings: 1 (snack/side) serving
Serving Size: 3 lettuce leaves filled with egg salad
Prep Time: 5 minutes (assuming hard-boiled eggs are already made)
Total Time: 5 minutes
Nutrition Facts: 161 calories / 3g carbs / 14.5g protein / 7.5g fat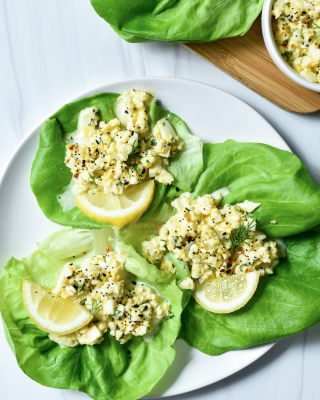 Ingredients:
1 hard-boiled (50g) egg
2 hard-boiled (66g) egg whites
1 tablespoon fresh lemon juice
1 tablespoon chopped fresh dill
2 teaspoons light mayonnaise
¼ teaspoon everything bagel seasoning
3 (23g) butter lettuce leaves
Optional garnishes: extra dill, extra seasoning, lemon slices
Instructions:
To hard boil eggs, bring 3 quarts of water to boil in a large pot. Gently place 3 eggs in boiling water, cover tightly and reduce heat to low. Boil eggs on a low simmer for 11 minutes.
To chill eggs quickly, combine 10-12 ice cubes in a medium bowl and fill with water until ice is barely covered. Add freshly boiled eggs to ice water and chill for 15 minutes. Peel eggs under running water for best results.
Add all ingredients (except lettuce leaves) to a small bowl and mash with a fork until mixed well. Serve in lettuce leaves and garnish with extra dill, everything bagel seasoning and lemon slices if desired (macros not included for garnish).
Notes:
Serve this egg salad with crackers, pita or a tortilla for a more substantial meal or snack.
If fresh dill is unavailable, use 1 ½ teaspoons dried dill.