Shake up your evening with this macro-friendly margarita! Fresh-squeezed citrus adds sweetness and zing without all the extra refined sugar.
Servings: 2 margaritas
Serving Size: 1 margarita (145 g)
Prep Time: 5 minutes
Total Time: 5 minutes
Nutrition Facts: 179 calories / 44.5g carbs / 0.5g protein / 0g fat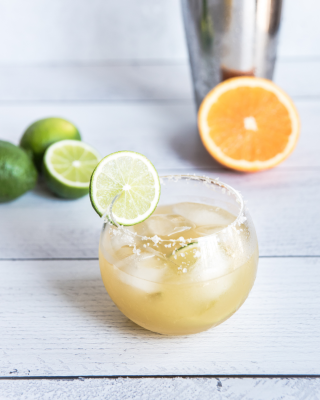 Ingredients
3.5 oz (98g) silver tequila
3 oz (90g) fresh-squeezed lime juice
3 oz (86g) fresh-squeezed orange juice
1 tablespoon (21g) agave syrup
Instructions
Fill two cocktail glasses with ice and set aside.
Fill a cocktail shaker halfway with ice. Add all ingredients, put on lid, and shake vigorously for 20 seconds.
Strain into glasses, garnish with lime if desired, and serve.
Notes
Many people enjoy a salted rim with their margarita. To do this, run a piece of lime along the lip of your glass and dip the rim into a shallow dish of rock salt before beginning.
The alcohol in this recipe is counted as a carbohydrate.
Want to calculate the macros in your drink? Use the calculator below!