French toast casserole is a favorite for holidays since it works well for a crowd (and is easy to make ahead!). This version is lightened up with egg whites and non-fat milk while still holding true to that comforting custard-like texture we all love. Finishing with a streusel topping and light drizzle of icing gives serious cinnamon roll vibes.
Servings: 6
Serving Size: 4-inch square (162g)
Prep Time: 15 minutes
Total Time: 60 minutes
Nutrition Facts: 297 calories / 38g carbs / 15.5g protein / 9g fat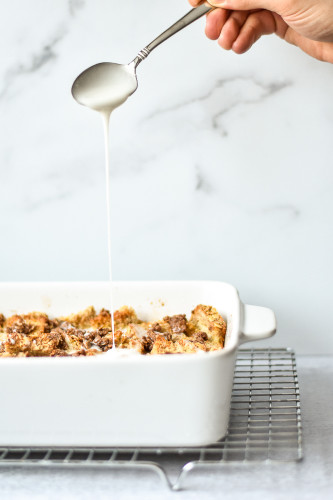 Ingredients:
8 slices (272g) "Food for Life" Ezekiel sprouted grain bread (cubed)
2 cups (490g) fat-free milk
4 large eggs (200g)
½ cup (122g) liquid egg whites
3 tablespoon (27g) brown sugar (divided)
2 teaspoon ground cinnamon (divided)
1 teaspoon vanilla extract
½ teaspoon salt (divided)
¼ cup (24g) rolled oats
2 tablespoon (14g) almond flour
2 tablespoon (28g) butter, cubed
¼ cup (30g) powdered sugar
2 teaspoon skim milk
Instructions:
Preheat oven to 350 degrees.
Prepare a 9×13-inch baking dish with cooking spray. Add bread cubes to the baking dish.
In a medium bowl, add 2 cups milk, eggs, egg whites, 2 tablespoons of brown sugar, vanilla extract, 1 teaspoon of cinnamon, ¼ teaspoon of salt. Whisk until well combined and then pour over the bread cubes.
Make the streusel: In a small bowl, combine oats, almond flour, butter, the remaining 1 tablespoon brown sugar, remaining 1 teaspoon of cinnamon, and the remaining ¼ teaspoon salt. Use a fork (or clean fingers) to combine until wet and crumbly. Sprinkle evenly on top of the casserole.
Bake casserole, uncovered, for 45 minutes or until set.
Meanwhile, combine the confectioner's sugar and 2 teaspoons milk in a separate small dish and use a fork to whisk until smooth.
When the casserole comes out of the oven, drizzle icing on top while still warm.
Optional garnishes: fresh berries (macros not included).
Notes:
To make ahead: complete steps 1-3, then cover and refrigerate. Complete the remaining steps the next day. The streusel can be made ahead as well but should be kept separate until just before baking.
Make this recipe dairy-free by substituting any (unsweetened) milk alternative for the skim milk (macros will vary).
---
Some of the links above are affiliate links, which may earn Macrostax a commission at no extra cost to you.