There's a lot less heat in this Instant Pot meal than you'll find in a traditional Jamaican dish, but feel free to spice it up with a little hot sauce or – if you're extra adventurous – exchange the chili powder for a whole scotch bonnet or habanero pepper!
Servings: 6 servings
Serving Size: 1 serving (308g)
Prep Time: 10 minutes
Total Time: 30 minutes
Nutrition Facts: 440 calories / 61g carbs / 33g protein / 8g fat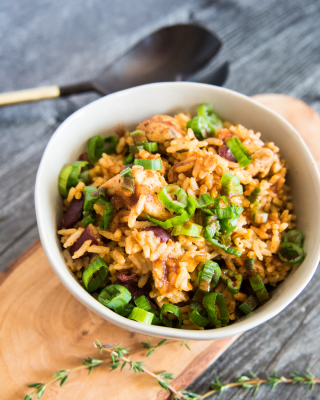 Ingredients:
2 teaspoons vegetable oil
6 medium (90g) green onions, whites only (chopped)
3 cloves (9g) garlic (minced)
1 tablespoon chili powder
1 ½ teaspoon fresh thyme
½ teaspoon allspice
½ teaspoon smoked paprika
½ teaspoon grated fresh ginger
½ cup (125g) chicken broth
1 ½ lbs (681g) chicken breast
1-15.5 ounce can (266g) kidney beans (rinsed and drained)
1-13.66 oz can (403g) "Thai Kitchen" lite coconut milk
2 cups (360g) uncooked long grain white rice
Instructions:
Set the Instant Pot to sauté and heat the vegetable oil until shimmering. Add the onions and garlic. Saute, stirring occasionally, until softened, about 3 minutes. Add the chili powder, thyme, allspice, paprika, and ginger, and cook until the spices are fragrant, about 30 seconds more.
Add 1/4 cup of the chicken broth and stir, gently scraping the bottom of the pot with a wooden spoon to loosen stuck-on bits, and simmer for 1 minute.
Cut chicken into 1 inch pieces and season generously with salt and pepper. Add it to the pot along with the beans and stir to combine.
Place rice in a mesh strainer and rinse under running water for about 3 minutes. Water running through rice will be cloudy, at first, but then appear clear once the rice is ready for use. Sprinkle rice over the chicken mixture (do not stir) and top with the coconut milk and remaining broth.
Secure the lid and pressure cook on high for ten minutes.
Quick release the pressure and fluff the contents with a fork.
Serve with additional onions, nonfat Greek yogurt, and hot sauce, if desired (macros not included).
Notes:
Allspice can be omitted if it is unavailable. Considering increasing the smoked paprika to 1 teaspoon if the allspice is left out.
A prepared version of fresh grated ginger is usually available in a jar or tube in the produce section. If fresh ginger is unavailable, substitute ¼ teaspoon dried, ground ginger.
This dish works great for meal prep! Allow the rice to cool completely before packaging in containers of 1-2 portions; these can be kept in the refrigerator of 3-5 days or in the freezer for up to three months. To reheat, place in the microwave for 3-4 minutes on the defrost setting, then on the regular setting for 2-3 minutes more as needed.
---
Some of the links above are affiliate links, which may earn Macrostax a commission at no extra cost to you.