Colorful and full of fresh flavors, this spaghetti squash casserole is a lightened up, gluten-free version of a weeknight classic. Toss your spaghetti squash in the oven as you prep the rest of your ingredients. Dinner will be on the table before you know it!
Servings: 8
Serving Size: ⅛ casserole (279g)
Prep Time: 1 hour
Total Time: 1 hour and 30 mins
Nutrition Facts: 249 calories / 19g carbs / 21g protein / 10g fat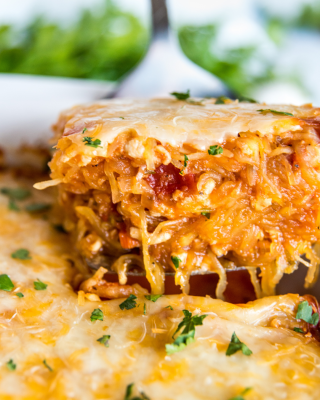 Ingredients:
1,000g cooked spaghetti squash (4-5 lb raw)
2 teaspoons (9g) olive oil
1 large (45g) carrot (peeled and finely diced)
2 ribs (80g) celery (finely diced)
1 large (250g) onion (diced)
4 cloves (12g) garlic (minced)
1 lb (454g) ground chicken breast
1 tablespoon (16g) tomato paste
1 15 oz (411g) can diced tomatoes
1 cup (250g) "Newman's Own" marinara sauce
2 teaspoons Italian seasoning
1 teaspoon salt
½ teaspoon pepper
1 tablespoon (16g) balsamic vinegar
1 ½ c (168 g) "Kraft" part skim shredded mozzarella cheese
Instructions:
To cook the raw spaghetti squash, start by preheating the oven to 400 degrees and lining a baking sheet with aluminum foil. Spray liberally with nonstick cooking spray.
Lay the spaghetti squash horizontally on your cutting board. Taking a firm grip of the squash, use a large chef's knife to carefully slice off the top and bottom edges. Reposition the squash so it's standing upright and slice downwards, slicing the squash into two equal halves.
Scoop out any seeds and place each half on the prepared sheet tray, cut-side down. Bake 45-50 minutes, until the flesh is tender and easily pierced with a fork. Remove from the oven and let rest while you work on your sauce.
Reduce oven to 375 degrees and spray a 9×13 in a casserole dish with nonstick cooking spray.
Heat olive oil in a large skillet over medium-high heat. Add carrots, celery, and onion and sauté until the onions are translucent and the carrots and celery are beginning to soften – about five minutes. Add garlic and cook until fragrant, about 30 seconds more.
Add the ground chicken and cook, stirring often, until cooked through and no pink remains.
Add tomato paste, diced tomatoes, marinara, Italian seasoning, salt, and pepper, and turn the heat to low. Allow the sauce to simmer for 5-10 minutes, stirring occasionally, to enhance the flavor.
While the sauce is simmering, take a fork to the inside of your spaghetti squash, running it through the flesh to create spaghetti-like strands. Measure out 1000 grams of the strands into a large bowl and set aside.
Once your sauce has finished simmering, stir in the balsamic vinegar and pour over the cooked spaghetti squash. Mix well and transfer to a casserole dish.
Cover the casserole with an even layer of cheese then bake for 25 minutes, until the top is gold and bubbly.
Let sit for ten minutes. Slice, serve, and enjoy!
Notes:
Use any brand of marinara sauce (macros may vary slightly).
To freeze, cover tightly and place in the freezer for up to 3 months. When ready to eat, thaw overnight in the refrigerator and reheat in a 350 degree oven until warmed through.
When prepping your squash, briefly microwaving it ahead of time will make it far easier to cut. Poke the flesh with a fork and microwave for 3-4 minutes before starting, then proceed as directed.
---
Some of the links above are affiliate links, which may earn Macrostax a commission at no extra cost to you.