This Instant Pot Chicken Cacciatore is a fast and easy way to enjoy your favorite Italian flavors any night of the week. Packed with vegetables, this meal is as nutritious as it is satisfying.
Servings: 4
Serving Size: 1 ¾ cup (446g)
Prep Time: 10 minutes
Total Time: 40 minutes
Nutrition Facts: 248 calories / 19.5g carbs / 29.5g protein / 6g fat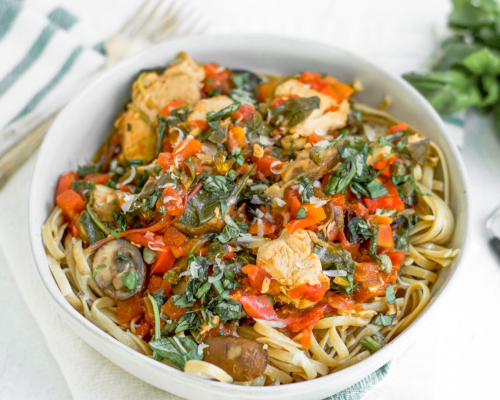 Ingredients:
1 pound (453g) chicken breast
1 tablespoon (14g) olive oil
½ teaspoon salt (divided)
⅛ teaspoon fresh ground pepper
8 ounces (227g) sliced mushrooms
1 cup (121g) diced onion
1 cup (143g) diced red bell pepper
½ cup (103g) fat free chicken broth
1 28-oz (794g) can diced tomatoes
1 teaspoon dried oregano
5 ounces (140g) fresh baby spinach
¼ cup (40g) pitted Kalamata olives
2 tablespoons (32g) drained capers
Optional toppings: fresh basil, Parmesan cheese (macros not included)
Instructions:
Dice chicken into 1-inch pieces. Add the oil to the Instant Pot and set the saute function to "on" for 10 minutes. Add the chicken, ¼ teaspoon of salt, and pepper to the pot and saute, stirring occasionally so it browns evenly and doesn't stick to the pan.
After 5 minutes add mushrooms, onion, and bell pepper to the pot and continue to saute for the remaining 5 minutes.
Add broth, tomatoes, oregano, and remaining ¼ teaspoon of salt to the pot. Cover and set to "pressure cook" on high for 10 minutes.
When it's done cooking manually release the steam. Uncover pot and stir in the baby spinach until it wilts. Stir in capers and olives. Serve with optional toppings.
Notes:
Store leftovers in an airtight container in the refrigerator for up to 5 days.
Pictured with whole wheat linguine. Serve with pasta, rice, or a side of your choice.
The cook time includes the time required to bring the Instant Pot up to pressure.
---
Some of the links above are affiliate links, which may earn Macrostax a commission at no extra cost to you.