Make pasta night even easier with this Slow Cooker Ziti. While not crispy like the baked version, it's every bit as flavorful and comforting! Your family will love this indulgent-tasting dish.
Servings: 8
Serving Size: 1 ¼ cups (310g)
Prep Time: 5 minutes
Total Time: 6 hours and 25 minutes
Nutrition Facts: 374 calories / 39.5g carbs / 24.5g protein / 13.5g fat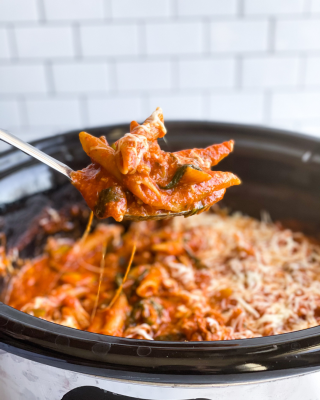 Ingredients:
2 teaspoons (9g) olive oil
1 pound (454g) 93% lean ground turkey
3 cloves (9g) garlic (minced)
½ teaspoon salt
¼ teaspoon pepper
2 medium (392g) zucchini (diced)
2 (25 ounce) jars (1418g) "Cucina Antica" tomato basil marinara sauce
1 ½ cups (355g) water
10 ounces (285g) uncooked penne pasta
5 ounces (140g) baby spinach
1 ¾ cups (196) "Kraft" part-skim shredded mozzarella cheese
Instructions:
Add the oil to a medium saucepan over medium heat. Once the oil is hot, add the ground turkey, garlic, salt, and pepper. Cook for 2-3 minutes, or until the turkey is browned but not cooked through.
Transfer the turkey and garlic to a slow cooker. Add the diced zucchini, tomato sauce, and water. Stir to combine. Cover and cook on low for 6 hours or on high for 3 hours.
After 6 hours, turn the slow cooker to high and add pasta and spinach. Stir to combine. Cover and cook for 15-20 minutes, or until the pasta is al dente.
Add 1 cup of cheese and stir until it melted. Sprinkle the remaining ¾ cup of cheese on top and serve.
Notes:
Store leftovers in an airtight container in the fridge for up to 4 days. Keep in mind that the noodles will get softer the longer that they're stored.
Browning the turkey helps deepen the flavor of this pasta dish. However, to save time you can skip this step and just add the turkey, garlic, oil, salt, and pepper directly into the slow cooker.
When stirring in the pasta, make sure to completely submerge the noodles in the sauce.
You can use any marinara sauce (macros may vary slightly).
To make this recipe gluten-free, use a gluten-free penne pasta (macros will vary).
Feel free to use any vegetables that you have in your fridge or freezer in place of the zucchini. Broccoli, cauliflower, or even eggplant would be good substitutes (macros will vary).
---
Some of the links above are affiliate links, which may earn Macrostax a commission at no extra cost to you.