Reminiscent of French onion soup, this quick and easy chicken dish brings together the savory flavors of caramelized onion and Gruyere cheese into a healthy, low-fat, high protein dish. Serve with your favorite grain or roasted potatoes for a satisfying meal.
Servings: 4
Serving Size: 133g/ One 4-oz chicken breast with onions and cheese
Prep Time: 5 minutes
Total Time: 30 minutes
Nutrition Facts: 215 calories / 4g carbs / 30g protein / 9g fat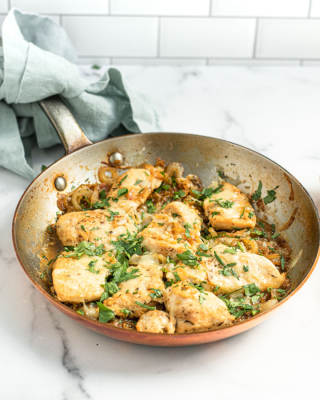 Ingredients:
1 pound (454g) skinless, boneless chicken breast
½ teaspoon salt
1 tablespoon olive oil
1 large (128g) onion (thinly sliced)
2 cloves (11g) garlic (minced)
¾ cup beef broth
1 teaspoon dried thyme
½ cup (54g) shredded Gruyere cheese
Instructions:
Cut chicken into four, 4 ounce portions. Season chicken breasts with ¼ teaspoon salt and a pinch of ground pepper. Thinly slice onion into rings and set aside, this should total about 1 cup. Turn on the oven broiler (if planning to use for the last step).
Heat 2 teaspoons of olive oil in a large skillet over medium-high heat. Add chicken breasts to the pan and sear on each side until browned, 2-3 minutes per side. Remove chicken from the pan and set aside.
Turn down the heat to medium-low and add remaining teaspoon of oil and onions. Saute, stirring frequently until they begin to brown and caramelize, 8-10 minutes. If they begin to stick, use a little of the broth to help release them from the pan.
When onions are soft and browned, add garlic and stir until fragrant, about 30 seconds. Add chicken back to the pan, along with broth, thyme, and remaining ¼ teaspoon of salt. Cover and cook for 5-6 minutes until chicken is mostly cooked through. Uncover the pan and let chicken finish cooking while the broth reduces, about 2-3 minutes. Internal temperature of the chicken should reach 165 F.
Once chicken is cooked, sprinkle Gruyere cheese evenly across chicken and place the pan under the broiler for 1-2 minutes until the cheese is melted, bubbly, and slightly browned.
Notes:
Chicken broth can be substituted for the beef broth but the depth of flavor may change slightly. Consider substituting Swiss cheese if Gruyere is unavailable.
No broiler? No problem. The last step can be completed by covering the pan and cooking on the stove until the cheese melts.
Cooking time for chicken may vary depending on thickness. Adjust time up or down accordingly.
Serve with cooked quinoa, farro, wild rice or roasted potatoes (macros not included).
Garnish with fresh parsley, as desired.