These fast and easy make ahead breakfast sandwiches are perfect for busy mornings. Enjoy at home or on-the-go for a meal that will keep you energized all morning long.
Servings: 4 sandwiches
Serving Size: 1 sandwich (224)
Prep Time: 5 minutes
Total Time: 20 minutes
Nutrition Facts: 339 calories / 44.5g carbs / 18.5g protein / 15.5g fat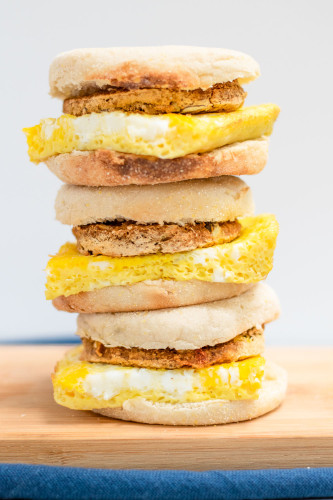 Ingredients:
4 "Dr. Praeger's" black bean quinoa veggie burgers
6 eggs (300g)
½ cup (120g) unsweetened almond milk
¼ teaspoon salt
4 plain "Sara Lee" English muffins
Instructions:
Preheat the oven to 350 degrees.
Place black bean burgers on a sheet pan and place in the oven to bake for 15 minutes.
Whisk together eggs, milk, and salt. Pour egg mixture into an 8×8 baking dish greased with pan spray. Bake for 12-14 minutes, until set.
Optional: toast English muffins (if serving immediately).
When eggs are done, cut into 4 equal squares. Place each egg square on one half of the English muffin and top with a burger and the other half of the English muffin. Serve immediately or store for later (see notes for directions).
Notes:
Top with fresh tomato, thinly sliced onion, a dash of a favorite hot sauce/condiment or even a thin schmear of light cream cheese (macros not included).
Feel free to use any brand of English muffin preferred (macros will vary slightly between brands). If not dairy-free, a fat-free milk could be substituted for the soy milk (macros will vary).
If making ahead: do not toast the English muffin. Wrap each sandwich in aluminum foil and then place in a freezer bag or storage container. Store in the refrigerator for up to 3 days and freezer for up to 3 months. When ready to serve, preheat the toaster oven or conventional oven to 350 degrees. Reheat the breakfast sandwich, wrapped in foil, until warmed through and the English muffin is toasted.