Enjoy this lightened up seven layer dip at your next gathering. It's packed with all of the traditional flavor but a fraction of the fat. Serve with tortilla chips or veggies for an even healthier option.
Servings: 10
Serving Size: Heaping ½ cup (125g)
Prep Time: 15 minutes
Total Time: 15 minutes
Nutrition Facts: 126 calories / 13g carbs / 8.5g protein / 5g fat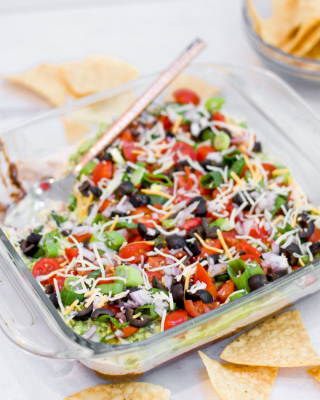 Ingredients:
16oz can "Amy's" vegetarian refried black beans
2 cups (454g) plain nonfat Greek yogurt
1 tablespoon taco seasoning
2 (220g) avocado, (flesh from about 2 small avocados without skin and pit)
1 tablespoon lime juice
½ teaspoon salt
1 cup (145g) cherry tomatoes (quartered)
¼ cup (25g) green onion (sliced)
2 tablespoons (16g) sliced black olives
2 tablespoons (11g) red onion (minced)
¼ cup (28g) "Kraft" 2% shredded Mexican style four cheese
Instructions:
In an 8×8 inch baking dish, spread the black beans evenly on the bottom of the dish to make the first layer.
Mix together the Greek yogurt and the taco seasoning then spread the yogurt layer on top of the beans.
Mash avocado and mix together with the lime juice and salt, then spread the avocado layer on top of the yogurt.
Top the avocado layer with tomatoes, red onion, green onion, and olives. Sprinkle cheese evenly across the top of the dip to finish.
The dip can be served immediately at room temperature or refrigerated and served chilled. Present with tortilla chips or fresh veggies like carrots, celery, or peppers (macros not included).
Notes:
Store leftovers covered in the refrigerator for up to 3 days.
Substitute any brand of vegetarian black beans as desired (macros will vary).