Pack in some extra protein while enjoying a sweet treat! These krispie treats will take you back to childhood and satisfy your dessert craving. These festive bars are perfect for sharing too!
Servings: 9
Serving Size: 1 square (40g)
Prep Time: 5 minutes
Total Time: 1 hour 5 minutes
Nutrition Facts: 175 calories / 27g carbs / 3.5g protein / 6g fat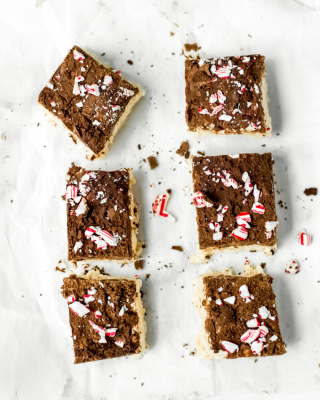 Ingredients:
4 cups (180g) "Kraft" mini marshmallows
4 tablespoons (252g) refined coconut oil
4 cups (106g) "Kellogg's" Rice Krispies cereal
Instructions:
In a large pot over medium heat melt coconut oil. Stir in marshmallows until mostly melted. Add protein powder and mix.
Turn off heat and mix in Rice Krispies. Gently spread mix into a parchment lined 9×9 inch pan. Set aside for 1 hour to set.
If you do add any of the optional toppings (listed in the Notes) such as chocolate, store in the fridge for 30 minutes for the toppings to set.
Notes:
Store at room temperature for up to 5 days.
Optional toppings: melted chocolate chips, crushed candy cane, or sprinkles (macros not included).
If you decide to use Optimum Nutrition products you can use code "MACROSTAX" for 20% off your purchase!
---
Some of the links above are affiliate links, which may earn Macrostax a commission at no extra cost to you.