This beef stroganoff is a lightened up version of the comforting classic dish. Lean beef is paired with mushrooms in a creamy flavorful sauce and served over your favorite pasta, creating a satisfying and filling pasta dish.
Servings: 6
Serving Size: 1.5 cups/265g (includes mix of pasta and beef sauce)
Prep Time: 10 minutes
Total Time: 30-35 minutes
Nutrition Facts: 353 calories / 39.5g carbs / 31.5g protein / 7.5g fat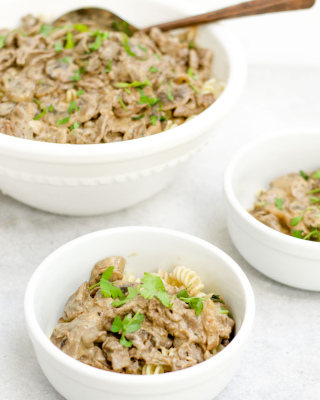 Ingredients:
8-ounces (224g) dry rotini pasta
1 pound (454g) raw flank steak (thinly sliced)
1 teaspoon olive oil
16-ounces (454g) button mushrooms (sliced)
2/3 cup (107g) shallot (thinly sliced)
2 garlic cloves (minced)
1 teaspoon dried thyme
½ teaspoon salt
1 ounce (29g) white wine
1 cup (245g) low sodium beef broth
2 tablespoons Worcestershire sauce
2 tablespoons flour
2 teaspoons Dijon mustard
½ cup (127g) plain nonfat Greek yogurt
Optional parsley for garnish
Instructions:
Cook pasta per package directions.
While pasta is cooking, heat a large saute pan or dutch oven over medium heat. Add steak strips and sear on each side for 3-4 minutes, until mostly cooked through. Remove from the pan and set aside.
Add olive oil to the same pan along with the mushrooms, shallots, garlic, thyme, and salt. Saute, stirring regularly for 6-8 minutes, until soft.
Add wine to the pan and stir well, taking care to scrape any brown bits on the bottom. Reduce heat to low.
In a separate bowl, whisk together the beef broth, Worcestershire, flour, and Dijon. Add the broth mixture to the pan along with cooked steak. Stir everything together and let the sauce reduce and thicken, approximately 2-3 minutes.
Remove from heat and stir in the Greek yogurt.
Serve beef and mushroom sauce over pasta and top with optional parsley for serving.
Notes:
If white wine isn't available, substitute beef broth, white wine vinegar, or cooking sherry (macros will vary).
Penne or any short length can be substituted for the rotini pasta.
Cremini/ baby Bella mushrooms can be substituted, as desired.
Store leftovers in the fridge for 3 days.