Turn your favorite Mexican dish into a healthy, plant-forward casserole. Packed with veggies, beans, and quinoa, this one-dish meal will satisfy your enchilada craving and keep you energized for hours.
Servings: 8
Serving Size: About 1.5 cups (220g)
Prep Time: 15 minutes
Total Time: 45 minutes
Nutrition Facts: 246 calories / 38g carbs / 13g protein / 6g fat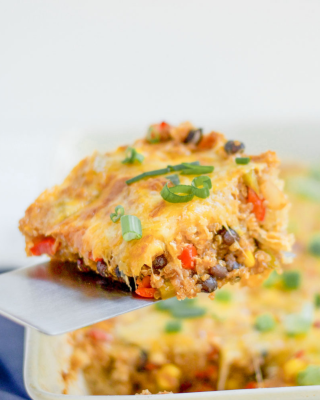 Ingredients:
1 cup (170g) uncooked quinoa
3 cups (405g) bell pepper, assorted colors (diced)
1 cup (160g) onion (diced)
1 clove (3g) garlic (minced)
15-ounce (425g) can black beans (drained and rinsed)
1 cup (165g) frozen corn
2 tablespoons lime juice
½ teaspoon salt
1 ½ cups (168g) "Kraft" 2% milk shredded Mexican style four cheese
1 ½ cups (366g) "Old El Paso" enchilada sauce
Instructions:
Preheat the oven to 350 degrees.
Cook quinoa according to package directions.
While quinoa is cooking, add a 1-second spray of pan spray to a large saute pan. Over medium heat, saute peppers, onions, and garlic until they begin to soften, about 5 minutes. Add in black beans, corn, lime juice, salt, and pepper to taste. Cook mixture for 2 minutes, until corn is warmed.
Combine bean mixture and cooked quinoa in a large mixing bowl. Add in 1 cup of the shredded cheese and the enchilada sauce. Mix together until combined with a large wooden spoon.
Pour mixture into a 9×13 baking dish. Top with remaining ½ cup cheese.
Cover with foil and bake for 20 minutes. Remove foil and put back in the oven for another 8-10 minutes, until the cheese is melted. Garnish with optional toppings, if using.
Notes:
Optional toppings: sliced green onions, cilantro, fresh sliced jalapenos (macros not included)
Casserole may be stored in an airtight container in the fridge for up to 3 days and in the freezer for up to 3 months. Reheat in the oven, covered.