This simple baked chicken recipe is fail-proof. For a tender and juicy chicken breast that you can use in other recipes or enjoy as-is, this will be your new favorite.
Servings: 4
Serving Size: 85g
Prep Time: 5 minutes
Total Time: 25 minutes
Nutrition Facts: 145 calories / 1.5g carbs / 25g protein / 4.5g fat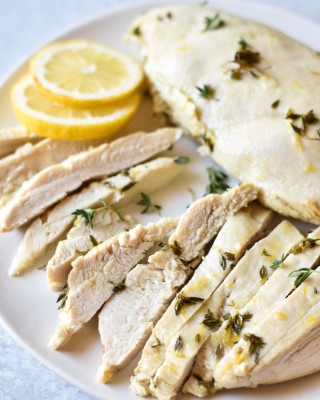 Ingredients:
1 pound (454g) skinless, boneless chicken breasts
3 tablespoons lemon juice
1 tablespoon fresh lemon zest
1 tablespoon olive oil
½ teaspoon salt
5 sprigs fresh thyme (stems removed)
Optional garnishes: additional fresh thyme sprigs, lemon slices
Instructions:
Pound chicken to ½-inch thickness and cut into four pieces that are equal in size. Transfer to a gallon-size zip-top bag.
To a jar, add the lemon juice, lemon zest, olive oil, salt, thyme, and shake well. Pour over the chicken and seal the bag. Shake/move chicken around to fully coat with the marinade. Place in the refrigerator for 30 minutes.
Meanwhile, preheat the oven to 425 degrees F. Grease a baking dish with cooking spray.
Place the chicken breasts with the marinade in the dish and bake for 18-20 minutes or until the internal temperature reaches 165 degrees F.
Notes:
This is a great meal prep recipe. Allow any leftovers to cool completely, then store in an airtight container in the refrigerator for up to 3 days.