Fight the winter chill with a batch of these crisp-edged, soft-centered beauties. The subtle sweetness of honey melds with a heart-warming blend of spices to create a paleo-friendly treat that's just begging to be enjoyed with a hot cup of tea. Best yet, these cookies keep remarkably well, making them the perfect homemade gift for the holiday season.
Makes: 16 cookies
Serving Size: 1 cookie (22g)
Prep Time: 15 minutes
Total Time: 25 minutes
Nutrition Facts: 131 calories / 8.5g carbs / 3.5g protein / 8.5g fat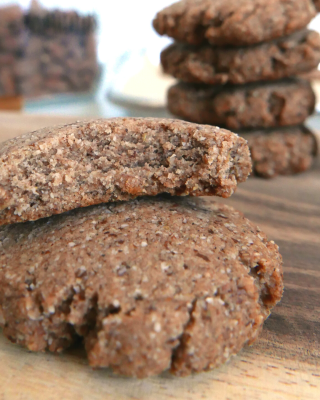 Ingredients:
1 ½ cups (168g) ground almond flour
¼ cup (28g) coconut flour
2 tablespoons (18g) arrowroot starch
2 ½ teaspoons cinnamon
1 ½ teaspoon cardamom
1 teaspoon ground ginger
1 teaspoon nutmeg
¼ teaspoon baking soda
¼ teaspoon salt
¼ cup (56g) coconut oil
¼ cup (80g) maple syrup
1 teaspoon pure vanilla extract
Optional: Extra whole almonds for decoration
Instructions:
Preheat the oven to 325 degrees and line a baking sheet with a silicone liner or greased parchment paper.
In a medium bowl, whisk together almond flour, coconut flour, arrowroot starch, spices, baking soda, and salt.
Warm the coconut oil and maple syrup in a saucepan over low heat or in the microwave, stirring to combine. When the mixture is just warm to the touch (not hot or boiling), remove from the heat and stir in vanilla extract.
Pour the warm coconut oil and maple syrup mixture over the dry ingredients and stir to combine. The dough will feel crumbly but should hold its shape.
Scoop tablespoon-sized rounds of dough (about 22g each) onto the prepared baking and flatten with the palm of your hand or the bottom of a flat glass. Press an almond into the center of the cookie for decoration if desired (macros not included).
Bake for 10 minutes, until the cookies are lightly brown around the edges. Allow cookies to cool on the baking sheet for 5-10 minutes before transferring to a wire rack to cool completely.
Notes:
These cookies won't spread in the oven. You can leave them with a rustic appearance, or you can use a cookie cutter to help shape them into your desired form.
Cookies may be stored at room temperature in an airtight container for up to 3 weeks.
---
Some of the links above are affiliate links, which may earn Macrostax a commission at no extra cost to you.