The flavors of autumn packed into an autumn vegetable – a perfect dinner for a crisp evening. Soft acorn squash is subtly sweet, and accentuated with apple, thyme, sage, and a dash of nutmeg.
Makes: 6 servings
Serving Size: 1 squash half with filling (348g)
Prep Time: 15 minutes
Total Time: 60 minutes
Nutrition Facts: 292 calories / 30.5g carbs / 24g protein / 8.5g fat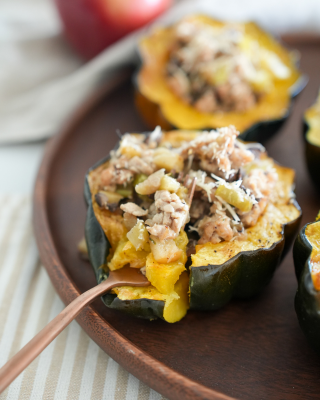 Ingredients:
3 (936g) whole acorn squash (halved)
16-ounces ( 454g) raw ground chicken breast
2 tablespoons (30g) olive oil (divided)
3 cloves garlic (minced)
1 small (60g) yellow onion (diced)
3 stalks (180g) celery (diced)
8-ounces (227g) cremini or Baby Bella mushrooms (chopped)
1 tablespoon fresh sage (chopped)
½ tablespoon fresh thyme
¼ teaspoon nutmeg
1 small (149g) apple (diced)
½ cup (42g) shredded Parmesan
Salt and pepper to taste
Instructions:
Preheat the oven to 400 degrees F.
Cut each acorn squash in half and remove seeds and filling.
Place on a baking sheet cut-side up. Season with salt and pepper and roast for 30 minutes.
After 30 minutes, flip them over and place them cut side down, and continue to roast for 15 minutes or until very tender. Remove from the oven and reduce the oven temperature to 350 degrees F.
Heat 1 tablespoon of olive oil in a large skillet over medium-high heat. Add the ground chicken and season with salt and pepper. Cook until browned, breaking it up into small crumbs. Remove from heat and set aside.
To the same skillet, heat the remaining 1 tablespoon olive oil. Add the garlic, onion, celery, mushrooms, sage, thyme, and nutmeg. Season with salt and pepper to taste. Saute for 5-10 minutes until vegetables are soft.
Add the apple and saute for an additional 5 minutes. Then add the chicken and stir until everything is well combined.
Remove the pan from the heat and using a spoon, fill the center of the acorn squash with the meat and vegetable mixture. Sprinkle with parmesan and bake for 15 minutes until cheese is melted.
Notes:
Use half the amount of herbs if using dried instead of fresh.