If you love cornbread, then you're going to love this take on a homespun classic! This hearty "pie" boasts a soft cornbread crust that gives way to a cozy, lightly spicy meat dish.
Makes: 6 servings
Serving Size: 1 serving (302g)
Prep Time: 45 minutes
Total Time: 90 minutes
Nutrition Facts:  424 calories / 47.5g carbs / 31g protein / 12.5g fat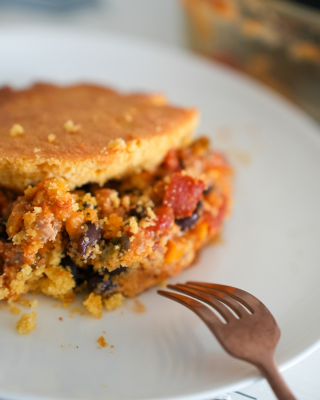 Ingredients:
Filling Ingredients:
1 lb (16-ounces) lean ground turkey
½ medium (85g) yellow onion (finely diced)
½ medium (114g) green bell pepper (finely chopped)
1 15-ounce can (260g) black beans (drained and rinsed)
1 14-ounce can (418g) creamed corn
1 15-ounce can (440g) fire-roasted diced tomatoes
1, 4-ounce can (112g) diced hatch green chile
½ cup (120g) chicken broth
2 teaspoons (5g) chili powder
2 teaspoons (5g) ground cumin
1 teaspoon (5g) salt
¼ teaspoon ground black pepper
1 cup (113g) shredded cheddar cheese
Cornbread topping Ingredients:
1 cup (122g) cornmeal
1 tablespoon (9g) flour
1 tablespoon (12g) sugar
1 ½ teaspoon baking powder
½ teaspoon salt
1 egg (50g)
⅓ cup (81g) 2% milk
1 tablespoon (14g) vegetable oil
Instructions:
Preheat the oven to 375 degrees.
Spray a large skillet with nonstick cooking spray. Saute the turkey, onion, and bell pepper over medium-high heat until the meat is brown and the onion translucent, about 10 minutes.
Add the beans, corn, tomatoes, chiles, and broth. Season with the chili powder, cumin, 1 teaspoon salt, and pepper. Simmer for 15 minutes.
Add the cheese and stir well. Pour into a greased 9×13 baking dish and set aside.
In a medium bowl, whisk together the cornmeal, flour, sugar, baking powder and the remaining ½ teaspoon salt. In a small bowl whisk together the egg, milk and oil until combined.
Mix the wet and dry cornbread ingredients until just combined.
Dollop the cornbread mixture on top of the turkey mixture and spread until the top is even.
Bake until the corn bread is brown, 35 to 40 minutes.
Let cool for five minutes and enjoy!