If you're craving the comforts of a classic Italian dish without the tomato sauce or heavy mozzarella, look no further than this one-pan gnocchi sausage bowl! Italian seasoned ground chicken, garlic, and parmesan are the focus of this dish alongside potato dumplings.
Servings: 6 servings
Serving Size: 1/6 recipe (215g)
Prep Time: 20 minutes
Total Time: 45 minutes
Nutrition Facts: 326 calories / 32.5g carbs / 23.5g protein / 9.5g fat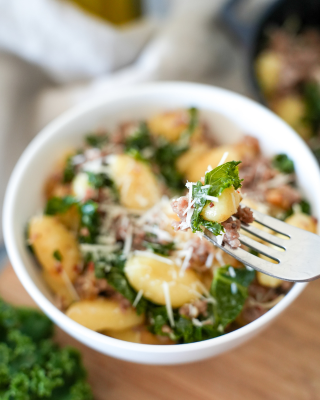 Ingredients:
1 pound (16-ounces) Italian seasoned ground chicken
1 tablespoon (14g) olive oil
2 garlic cloves (minced)
½ medium (47g) onion (chopped)
½ cup (120g) chicken broth
4 cups (520g) raw kale (ribs removed, chopped)
16-ounces (454g) dry potato gnocchi
½ cup (56g) shredded Parmesan cheese
½ teaspoon red pepper flakes (optional)
Instructions:
Heat a large nonstick skillet or saute pan over medium-high heat.
Cook ground chicken, breaking up and stirring occasionally, until browned and cooked through, about 6 – 7 minutes. Set cooked sausage aside.
Reduce heat to medium and add olive oil and garlic until fragrant. Add chopped onion and saute for 4-5 minutes.
Add chicken broth and bring to a simmer.
Add in kale, cover skillet, and let steam until kale is wilted.
Add in gnocchi and mix well, seasoning with salt and pepper to taste.
Cover and cook for an additional 4-5 minutes.
Remove from heat and add the Parmesan and cooked chicken. Stir gently to combine. Serve warm with more Parmesan and red pepper flakes if desired (macros not included).