We're switching up our SUPER popular Baked Blueberry Pancake recipe to bring you…Baked Banana Chocolate Chip Pancakes! Banana and chocolate chips are one of the best combos ever, and baking pancakes is the easiest way to make pancakes ever. So there you have it – give these quick 'n easy breakfast beauties a try!
Makes: 8 pancake squares
Serving Size: 2 pancake squares
Prep Time: 5 minutes
Total Time: 20 minutes
Nutrition Facts: 275 calories / 41g carbs / 14.5g protein / 7g fat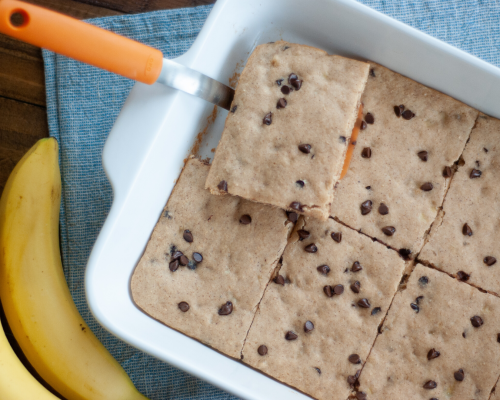 Ingredients:
1 ½ cups (159g) "Kodiak Cakes" Power Cakes buttermilk flapjack mix
¾ cup (184g) fat-free milk
½ cup (113g) mashed banana
1 egg (50g)
1 teaspoon cinnamon
⅓ cup (58g) "Nestle Toll House" mini semi-sweet chocolate chips (divided)
Instructions:
Preheat the oven to 350 degrees. Prepare a 9×13-inch baking dish by spraying well with nonstick cooking spray.
Mix the flapjack mix, milk, egg, banana, cinnamon, and ¼ cup of the chocolate chips together in a medium bowl. Stir with a fork until the pancake mix is incorporated and only a few lumps remain.
Pour the batter into the prepared dish and spread evenly using a rubber spatula. Top with the remaining chocolate chips.
Bake for 12-14 minutes or until the pancakes are a very light golden color and a toothpick comes out clean. Be careful not to overbake- the pancakes can get rubbery if cooked too long.
Cool for 10 minutes before slicing. Slice into 8 even squares. Serve warm topped with maple syrup, fresh fruit, chocolate chips, nut butter, or cinnamon sugar (macros not included.)
Store leftovers in an airtight container in the refrigerator for 3-5 days, or in the freezer for up to 3 months. Defrost in the microwave for 30-60 seconds.
Notes:
You can substitute regular sized semi-sweet chocolate chips for the mini chocolate chips (match the gram weight listed in the recipe!). 
---
Some of the links above are affiliate links, which may earn Macrostax a commission at no extra cost to you.