Does it get any better than peanut butter and banana? We didn't think so. These Peanut Butter Banana Roll-Ups are a 5 minute meal that's perfect for adults and kids alike! It's hard to beat bite sized, naturally sweetened, and portable for the ultimate snack!
Servings: 1
Prep Time: 5 minutes
Nutrition Facts: 395 calories / 58.5g carbs / 11g protein / 15g fat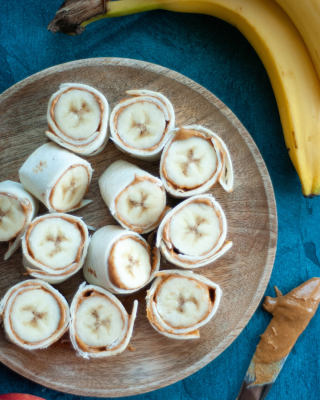 Ingredients:
1 "Mission" 7-8-inch (49g) flour tortilla
1 ½ tablespoons (24g) smooth natural peanut butter (we used "Smucker's")
1 medium (118g) banana
Sprinkle of cinnamon
Instructions:
Lay out the tortilla. Spread evenly with the peanut butter. Sprinkle with cinnamon.
Lay the banana on the bottom half of the tortilla. Tightly roll away from you.
Slice into 6 pieces.