Ready for a new breakfast meal prep recipe?? Our Sweet Potato Hash with Bacon and Eggs is it! This simple meal is full of veggie goodness and cooks up in half the time of traditional sweet potato hash. Double the recipe and you'll have breakfast covered for the week!
Servings: 2
Serving Size: ½ the hash (271g) + 1 cooked egg
Prep Time: 10 minutes
Total Time: 30 minutes
Nutrition Facts: 457 calories / 36.5g carbs / 38.5g protein / 12g fat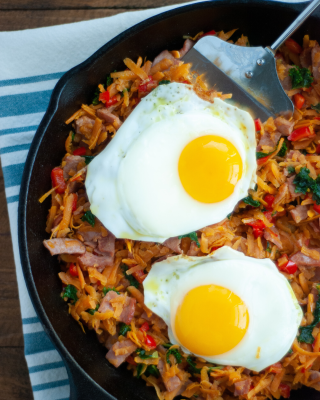 Ingredients:
1 tablespoon (14g) olive oil
6 oz (170g) "Applegate" uncured turkey bacon (diced)
4 cups (300g) peeled and grated raw sweet potato (about 2 small)
1 small (114g) red bell pepper (finely diced)
½ teaspoon garlic powder
¼ teaspoon paprika
2 cups (32g) diced kale
2 eggs (100g)
Instructions:
Heat olive oil in a medium skillet over medium heat. Add the diced bacon to the skillet and cook, stirring occasionally, for 3-4 minutes.
Add the sweet potato, bell pepper, garlic powder and paprika to the pan and stir to combine. Cover with a lid (it doesn't have to fit perfectly.)
Cook for 4-5 minutes and then stir. Add the kale, cover, and cook for another 5-10 minutes, stirring occasionally, until the sweet potato is tender and the kale is wilted.
You can either cook the eggs in the pan with the hash or in a separate pan. If cooking in the same pan as the hash, push the sweet potato to one side and spray the pan with nonstick spray before cooking the eggs.
Cook the eggs (either sunny side up or scrambled) to your liking.
Garnish with diced green onion, chives, or parsley if desired. Season to taste with additional salt and pepper.
Notes:
You can substitute baby spinach for the kale if desired (the macros will be virtually the same).