Check out our latest 30 minute meal: Mediterranean Meatballs with Yogurt Herb Dip! These flavorful baked meatballs are jam packed with fresh herbs and spices, and are perfect for dipping in our 2 ingredient Yogurt Herb Dip. This recipe is delicious with couscous or pita bread!
Makes: 20 meatballs + 1 cup dip
Servings: 4
Serving Size: 5 meatballs + ¼ cup dip
Prep Time: 10 minutes
Total Time: 25 minutes
Nutrition Facts: 269 calories / 6g carbs / 31g protein / 12.5g fat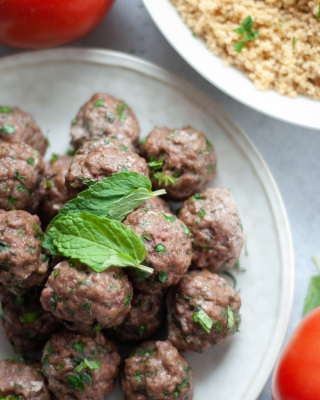 Ingredients:
1 lb (454g) 90% lean ground beef sirloin
1 beaten egg (50g)
¼ cup finely chopped parsley
1 tablespoon finely chopped mint
1 tablespoon ground cumin
1 teaspoon dried oregano
¾ teaspoon salt
Yogurt Herb Dip:
1 cup nonfat plain Greek yogurt
2 tablespoons chopped mint
Instructions:
Preheat oven to 400 degrees. Prepare a baking sheet by lining with foil, parchment paper, or by spraying well with nonstick cooking spray.
In a large bowl toss together all meatball ingredients until combined (do not overmix or mash). We find it easiest to use a fork or clean hands.
Roll the meat into 20 meatballs (about 2 tablespoons each). Use a cookie dough scoop if you have one! Place at least 1 inch apart on the baking sheet.
Bake for 10-11 minutes or until the meatballs are lightly browned, just cooked through, and a meat thermometer reads 160 degrees.
While the meatballs are baking, mix together the dip ingredients in a small bowl.
Serve the cooked meatballs with salad, quinoa, couscous, or pita bread. Garnish with fresh herbs and the Yogurt Herb Dip.
Notes:
The meatballs are freezer friendly! Once they are baked and cooled, place in a freezer-safe container or zip-top bag and freeze for up to 3 months. Thaw overnight in the refrigerator before reheating and serving.
---
Some of the links above are affiliate links, which may earn Macrostax a commission at no extra cost to you.