Roasted Skirt Steak and Baby Potatoes is the perfect intimate meal for Valentine's Day dinner! Impressing your special someone is easy with this sheet pan meal.
Servings: 4
Serving Size: 3 oz (85g) steak and 3.75 oz (106g) potatoes
Prep Time: 5 minutes
Total Time: 30 minutes
Nutrition Facts: 24.5g carbs / 25g protein / 18g fat / 362 calories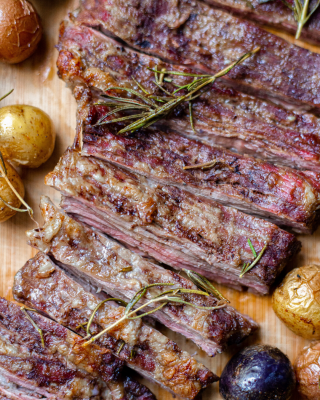 Ingredients:
1 pound (454g) tricolor baby potatoes
1 tablespoon (14g) extra virgin olive oil
1 pound (454g) uncooked skirt steak
4 sprigs fresh rosemary
Instructions:
Preheat the oven to 450 degrees. Line a baking sheet with foil or parchment paper and set aside.
In a small mixing bowl add the baby potatoes, extra virgin olive oil, and salt and pepper and toss well.
Place the skirt steak on the baking sheet and season well with salt and pepper. Surround it with the baby potatoes and sprigs of rosemary.
Roast for 25 minutes, stirring the potatoes occasionally.
If you prefer rare or medium rare steak, check the meat after 15-20 minutes of cooking. If you take the steak out early, place the potatoes back in the oven for the remainder of the cooking time.
Let the steak rest, covered, for 5-10 minutes before slicing.
Notes:
You can also season the steak with steak seasoning or any all-purpose seasoning of your choice!
---
Some of the links above are affiliate links, which may earn Macrostax a commission at no extra cost to you.