The viral TikTok trend lives up to the hype! We switched things up with chickpea pasta and scaled back on oil to make this more macro-friendly, but just as fun.
Servings: 5 servings
Serving Size: 1 heaping cup (216g)
Prep Time: 10 minutes
Total Time: 40 minutes
Nutrition Facts: 342calories / 33.5g carb / 18g pro / 15g fat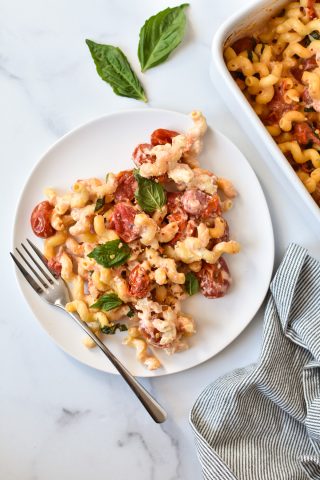 Ingredients:
20-ounces grape tomatoes (568g)
2 cloves garlic (smashed)
1 tablespoon olive oil (divided)
1, 8-ounce (226g) block feta cheese (drained)
¼ teaspoon salt
¼ teaspoon crushed red pepper flakes (optional)
1 box Banza cavatappi pasta (227g)
Optional garnishes: basil, mint, oregano, Italian parsley
Instructions:
Preheat the oven to 400 degrees F.
Add tomatoes and garlic cloves to a large baking dish. Pour two teaspoons of the olive oil over the top and toss until evenly coated. Nestle the block of feta cheese in the center and top with the remaining teaspoon of olive oil. Scatter the salt and red pepper flakes evenly over the top. Bake for 30-35 minutes, or until the cheese is golden brown.
When there's about 10 minutes of cook time left, boil water for pasta and cook according to package directions. Drain.
Remove the baking dish from the oven and use a fork to mash the cheese and mix with the tomatoes and their juices. Pour the hot pasta over the top and toss gently.
Garnish with fresh herbs like basil, oregano, or parsley and additional red pepper flakes, if desired.
Notes:
Use any type of pasta in this recipe (macros will vary), but be sure to boil it al dente as it will continue to cook once tossed with the hot sauce.
Chickpea pasta is best when consumed immediately since the texture doesn't hold up as well when it's reheated.