Put those neglected bananas to good use and make these banana bread-inspired oatmeal bars! This convenient breakfast is oven-ready in less than five minutes and can be made almost entirely in the food processor.
Servings: 12 bars
Serving Size: 1 bar (134g)
Prep Time: 5 minutes
Total Time: 45 minutes
Nutrition Facts: 239 calories / 38.5g carbs / 9g protein / 5.5g fat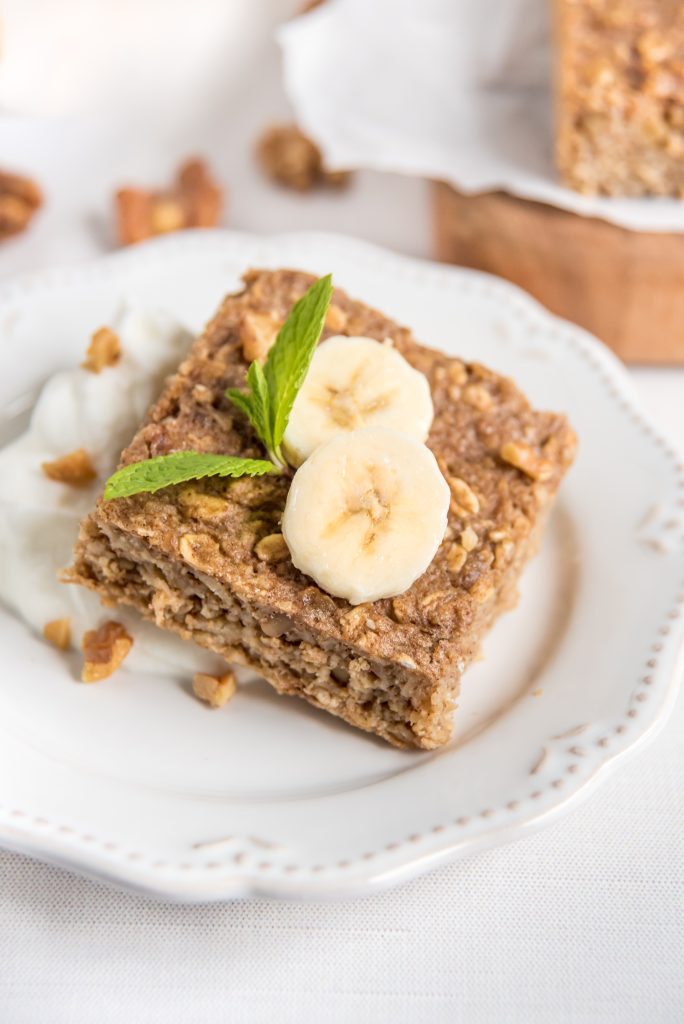 Ingredients:
5 cups (400g) old-fashioned oats (divided)
2 medium (236g) bananas (mashed)
½ cup (110g) brown sugar
2 (100g) large eggs
2 teaspoons cinnamon
1 ½ teaspoons baking powder
1 ½ teaspoons vanilla extract
½ teaspoon salt
3 cups (706g) 'Fairlife' ultra-filtered nonfat milk
1/3 cup (40g) walnuts (finely chopped)
Instructions:
Preheat the oven to 350 degrees F. Spray a 9×13-inch baking dish with nonstick cooking spray and line with enough parchment paper to leave a 1-inch overhang on each side.
Place 3 cups of the rolled oats in a large mixing bowl and set aside.
In the bowl of a food processor, combine remaining 2 cups of oats with bananas, brown sugar, eggs, cinnamon, baking powder, vanilla, and salt, and pulse until well blended, scraping down the sides as necessary. Pour into the bowl with the reserved oats and stir in milk and walnuts. (Don't worry if the mixture seems thin at this point – the oats will absorb all the liquid while baking.)
Transfer to the prepared baking dish and bake for 35-40 minutes, or until the center is set and the edges are golden brown. Cool completely before slicing into bars.
Serve cold, warm, or at room-temperature, accompanied by Greek yogurt and fresh fruit, if desired (macros not included).
Notes:
Bars will keep in an air-tight container in the fridge for up to 5 days.
To freeze, allow the baked dish to cool completely. Slice into bars and store in individual portions in freezer-safe bags or containers. Thaw in the fridge overnight and enjoy the next morning!
No food processor? No problem! To make by hand, combine all the dry ingredients in one bowl and the wet ingredients in another. Stir the wet into the dry and bake as directed. The final product will have a slightly different consistency (somewhat denser and less cake-like) but will remain just as delicious!