Light and fluffy with golden, crispy edges, these scones get their tender crumb from buttermilk instead of cream, making them wholesome enough for everyday consumption yet special enough to feel indulgent.
Servings: 8 scones
Serving Size: 1 scone (60g)
Prep Time: 10 minutes
Total Time: 40 minutes
Nutrition Facts: 235 calories / 34.5g carbs / 5g protein / 8.5g fat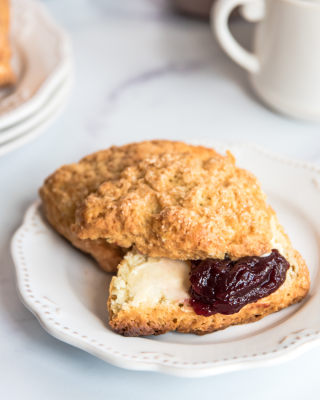 Ingredients:
2 cups (250g) flour
¼ cup (50g) sugar
1 tablespoon baking powder
½ teaspoon baking soda
½ teaspoon salt
5 tablespoons (71g) frozen butter
2/3 cup (150g) low-fat buttermilk
1 large (50g) egg
3/4 teaspoon vanilla extract
2 tablespoons (24g) turbinado sugar
Instructions:
Preheat the oven to 400 degrees and line a baking sheet with parchment paper or a silicone baking mat.
Whisk flour, sugar, baking powder, baking soda, and salt together in a large bowl. Grate frozen butter directly into flour mixture and lightly work it in with your fingertips until the butter is in pea-sized crumbs. No need to over-work anything here – messy is good!
In a separate bowl whisk together buttermilk, egg, and vanilla extract. Reserve 2 tablespoons of the buttermilk mixture and set aside. Pour the remaining buttermilk mixture over the flour mixture. Mix briskly with a fork until everything is moistened then turn the dough out onto a lightly floured surface.
Pat the dough into a circle 1-inch thick and cut into 8 equal triangles. Transfer individual triangles to a baking sheet and chill in the refrigerator for 15 minutes.
Brush the top of the scones with the reserved buttermilk mixture and sprinkle with turbinado sugar. Bake for 20-22 minutes or until scones are golden brown.
Allow scones to cool for at least 5 minutes and serve with butter and jam, if desired (macros not included).
Notes:
Cold dough is happy dough! Use chilled ingredients, handle dough as little as possible, and refrigerate before baking. This will both prevent the scones from over-spreading in the oven and create beautiful, buttery pockets for a perfectly crumbly scone. 
Turbinado sugar is a coarse brown sugar that adds a delightful crunch to the top of baked goods. Substitute light brown sugar if it is unavailable. 
Scones will keep at room temperature in an airtight container for up to three days. To reheat, wrap in a damp paper towel and microwave for 15-20 seconds.
This is an excellent recipe to make ahead and freeze. Follow instructions up through cutting the scones into equal triangles. Instead of refrigerating, freeze dough wedges on a plate or baking sheet until firm (about 1 hour) and transfer to a freezer friendly bag or container. Frozen dough will keep up to 5 months. When ready to eat, bake directly from the freezer and add 2-3 minutes of baking time. 
---
Some of the links above are affiliate links, which may earn Macrostax a commission at no extra cost to you.