Baked chicken has never tasted this good! It's hard to beat anything smothered in barbeque sauce with a cheesy baked potato and a side of green beans. This quick dinner tastes like it's straight out of a steakhouse (minus the hefty tab). It's easy to customize your portions of chicken, baked potato, and green beans to hit your macros!
Servings: 1
Prep Time: 5 minutes
Nutrition Facts: 546 calories / 53.5g carbs / 44g protein / 16g fat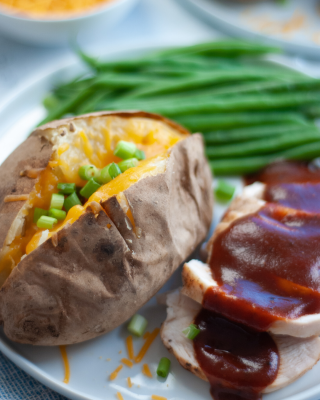 Ingredients:
3 ½ oz (99g) cooked chicken breast
3 tablespoons (50g) "Stubb's" bar-b-q sauce
1 medium (173g) baked potato
⅓ cup (37g) shredded cheddar cheese
¾ cup (83g) steamed green beans (fresh or frozen)
Instructions:
Top the chicken with bar-b-q sauce.
Melt the cheese over the baked potato and green beans in the microwave. Season with salt and pepper to taste. Garnish with green onions if desired!
Notes:
Time saver tips: buy pre-cooked chicken and/or baked potato in the deli section of your grocery store or use rotisserie chicken breast.
Feel free to substitute other brands of BBQ sauce, but be aware that macros do vary.