Who said that easy and fast can't be healthy too? Our Kale Salad with Salmon and Curried Chickpeas is ready in 30 minutes and is ALSO full of colorful veggies, fiber, and omega-3 goodness. This recipe makes 2 servings, but you can easily double or triple it for meal prep.
Servings: 2
Serving Size: 1 salad
Prep Time: 10 minutes
Total Time: 30 minutes
Nutrition Facts: 566 calories / 54.5g carbs / 37g protein / 24g fat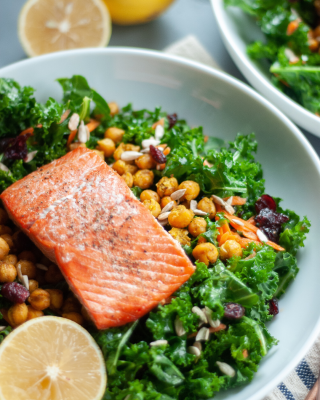 Ingredients:
Kale Salad:
6 cups (96g) raw kale (de-stemmed and roughly chopped)
3 tablespoons fresh lemon juice
2 tablespoons olive oil
Freshly ground salt and pepper
½ cup (55g) grated carrot
¼ cup (40g) dried cranberries (we used "Craisins" original)
Toppings:
1 ½ cups (246g) canned chickpeas (rinsed and drained)
1 teaspoon curry powder
⅛ (generous pinch) teaspoon salt
12 oz (339g) raw Sockeye salmon
2 tablespoons (16g) roasted sunflower seeds
Instructions:
Preheat oven to 400 degrees. Prepare a baking sheet by lining with foil or spraying well with nonstick cooking spray.
Pat the chickpeas dry with paper towels. Place them in a small bowl. Spray well with cooking spray. Season with salt and curry powder. Toss well to combine.
Place chickpeas on one half of the baking sheet. Place the raw salmon portions on the other half, season well with salt and pepper. Bake for 20 minutes or until the chickpeas are a light golden brown and the salmon is cooked through.
Meanwhile toss the kale, olive oil, lemon juice, and salt and pepper together with your hands. Massage for 2-3 minutes, or until the kale wilts and softens slightly. Toss with the carrot and cranberries.
Divide the kale salad in half. Top each salad with half of the cooked salmon (about 5oz each) and half the roasted chickpeas (about ¾ cup). Garnish each salad with 1 tablespoon of roasted sunflower seeds.
Notes:
Note: the cook time for the salmon may vary depending on the size and shape of the raw salmon portions you purchased. If the salmon needs more cook time, remove the roasted chickpeas from the baking sheet and return the salmon to the oven.
If preparing this salad in advance, store the kale salad separate from the chickpeas and salmon. The individual components will keep for up to 5 days in the refrigerator.
---
Some of the links above are affiliate links, which may earn Macrostax a commission at no extra cost to you.