Chia seed pudding is a creamy and delicious make-ahead snack that tastes indulgent but is actually nutritious. This version plays off a classic dessert: berries and cream. Meal prep this protein-packed dish by portioning into mason jars for an easy breakfast or snack all week long!
Servings: 5
Serving Size: ¾ cup pudding + ¼ cup berries (166g total)
Prep Time: 15 minutes
Total Time: 4.5 hours
Nutrition Facts: 227 calories / 25.5g carbs / 17.5g protein / 6.5g fat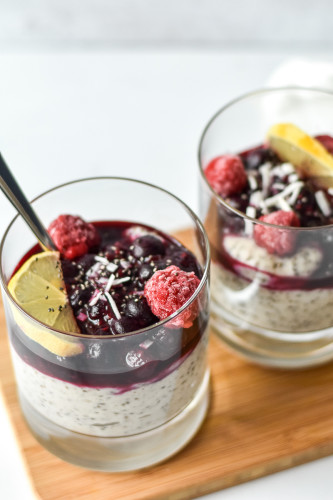 Ingredients:
½ cup (96g) chia seeds
2 ½ cups (613g) nonfat milk
½ teaspoon vanilla extract
½ teaspoon almond extract (optional)
1 cup (140g) frozen blueberries
1 cup (140g) frozen raspberries
1 tablespoon maple syrup
1 tablespoon lemon juice
2 scoops (62g) "Optimum Nutrition Gold Standard 100% Whey", vanilla ice cream flavor
Instructions:
Place chia seeds, milk, vanilla extract and almond extract (optional) in a large (one-quart) wide-mouth mason jar. Cover and shake well to combine. Refrigerate at least four hours, or overnight. Alternatively, use a large bowl and whisk well to combine.
Meanwhile, add berries, maple syrup and lemon juice to a medium saucepan. Bring to a gentle simmer, stirring often. Once the berries are slightly thickened (about 5-7 minutes) remove from heat and let stand to cool. Transfer to a food storage container and refrigerate until ready to use. The sauce will thicken even more as it chills.
When the chia mixture is sufficiently chilled it will be thick like pudding. Transfer the mixture to a blender and add the protein powder. Blend on high until smooth and creamy, about one minute.
Place chia pudding in a large storage container and then spread the berry mixture evenly over the top. See notes for serving recommendations.
Garnish with additional berries, shredded coconut and/or lemon zest, if desired (macros not included).
Notes:
For serving: to ensure that macros are correct, take care to scoop a consistent ratio of pudding to berries when portioning and weighing this dish. Chia pudding can be scooped into mason jars for a grab and go breakfast.
This pudding can also be made with milk alternatives like soy, almond, or rice milk though macros will vary.
Fresh berries can also be used, as desired.
If you decide to use our favorite Optimum Nutrition protein powder you can use code "MACROSTAX" for 20% off your purchase!
---
Some of the links above are affiliate links, which may earn Macrostax a commission at no extra cost to you.