These berry oatmeal muffins are the perfect meal-prep snack. Not only can they be made ahead of time and freeze well, but they're free of oil or butter and packed with nutritious ingredients.
Servings: 12
Serving Size: 1 muffin (57g)
Prep Time: 15 minutes
Total Time: 35 minutes
Nutrition Facts: 167 calories / 22g carbs / 6g protein / 7g fat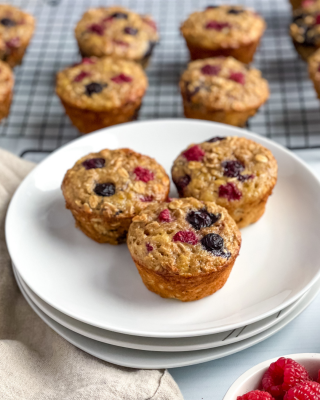 Ingredients:
2 ¼ cups (216g) rolled oats
1 teaspoon baking powder
½ teaspoon baking soda
1 teaspoon ground cinnamon
¼ teaspoon salt
2 large (100g) eggs
¾ cup (170g) nonfat plain Greek yogurt
⅓ cup (85g) almond butter
⅓ cup (80g) 100% maple syrup
1 teaspoon vanilla extract
½ teaspoon almond extract (optional)
1 cup (163g) mixed berries, fresh or frozen
Instructions:
Preheat the oven to 425 degrees F. Lightly grease a muffin tin with non-stick cooking spray, set aside.
In a food processor, pulse about ⅓ cup of the oats into a flour-like consistency. Pour the oat flour into a large mixing bowl along with the remaining oats, baking powder, baking soda, cinnamon, and salt. Set aside.
In a medium-sized mixing bowl, whisk the eggs until the yolks and whites are fully combined. Whisk in the Greek yogurt, almond butter, maple syrup, vanilla extract and almond extract (if using) until smooth.
Slowly stir the dry ingredients into the wet until just combined. Fold in about ¾ of the berries.
Divide the batter evenly into the prepared pan. This will fill each tin almost to the top. Top each muffin with the remaining berries.
Bake for 5 minutes. Without opening the oven, reduce the heat to 350 degrees F and bake for another 15-20 minutes, or until the edges of the muffins are golden brown and the tops are set. Remove from the oven.
Allow the muffins to cool for 5-10 minutes in the muffin tin before carefully transferring them to a cooling rack. Cool completely before storing.
Notes:
Store leftover muffins in an airtight container in the fridge for up to 4 days. You can also freeze individual muffins for up to 3 months.
If the almond butter is too stiff to mix, gently heat it in the microwave for 20 seconds before adding it to the batter.
Raspberries and blueberries are recommended for this recipe. Blackberries or strawberries can also be used but are best if cut into smaller pieces before adding to the batter.
If using frozen berries, toss them in a few tablespoons of pulsed oat flour before folding into the batter to prevent the berries from sinking to the bottom during the cooking process.
Use of certified gluten free oats is the only modification needed to make this a gluten-free recipe.
---
Some of the links above are affiliate links, which may earn Macrostax a commission at no extra cost to you.