This berrylicious Quinoa Breakfast Casserole is the ultimate meal prep breakfast: it's easy, makes 6 servings, and is packed full of nutrients from quinoa, berries and Greek yogurt. Fluffy cinnamon-spiced quinoa is baked with a creamy custard, lightly sweetened with raspberries and banana. So good!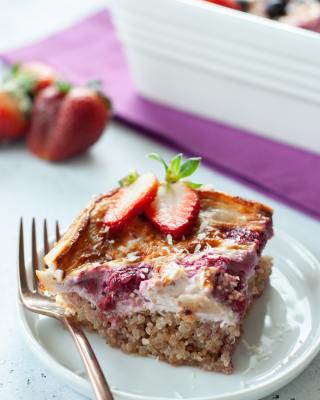 Servings: 6
Serving Size: ⅙ of casserole (163g)
Prep Time: 10 minutes
Total Time: 70 minutes
Nutrition Facts: 217 calories / 33g carbs / 18g protein / 2g fat
Ingredients:
1 cup (170g) pre-rinsed, uncooked quinoa
1 teaspoon cinnamon
¼ teaspoon salt
1 cup (140g) frozen raspberries or blueberries
1 medium (118g) ripe banana (sliced)
1 ½ cups (368g) fat free milk
1 cup (227g) "Chobani" vanilla blended nonfat yogurt
½ cup (122g) egg whites
4 scoops (40g) "Vital Proteins" unflavored collagen peptides
Instructions:
Preheat oven to 350 degrees. Prepare a 8×8-inch baking pan by spraying with nonstick cooking spray.
In a small bowl, mix together quinoa, cinnamon, and salt. Pour into the bottom of the baking pan.
Scatter frozen raspberries and sliced banana over the quinoa mixture.
In a blender or food processor blend together the milk, yogurt, egg whites, and collagen peptides until no lumps remain. You can also use a whisk if needed. Pour over the quinoa and fruit. Stir lightly with a fork or spoon.
Bake for 55-60 minutes or until mostly set (only slightly wobbly in the middle). Remove from oven and let cool for at least 30 minutes before slicing.
Store leftovers in an airtight container in the refrigerator for up to 5 days, or the freezer for up to 3 months.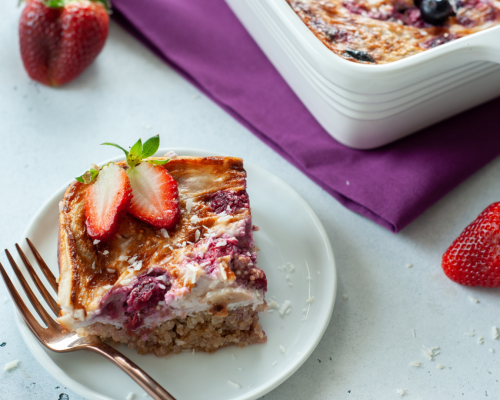 Notes:
If your quinoa is not pre-rinsed, make sure to rinse under cold running water in a fine mesh strainer (or in a bowl) for 1-2 minutes. This is to rinse off the bitter tasting compound that usually coats these nutritious seeds.
Use any combination of berries you like! Fresh or frozen blueberries, blackberries, or strawberries would all be delicious.
If you double the recipe, bake in a 9×13-inch pan. Baking time will likely be slightly longer, but check after 50-60 minutes.
You can substitute any protein powder for the collagen peptides. Use the quantity of protein powder that adds up to 36 grams of protein (about 1 ½ scoops for most brands).
To make dairy-free with macros: 207 calories / 31.5g carbs / 13g protein / 3.5g fat:
Substitute unsweetened almond milk for the nonfat milk
Substitute 1 cup "So Delicious" vanilla coconut milk yogurt alternative for the Greek yogurt.
---
Some of the links above are affiliate links, which may earn Macrostax a commission at no extra cost to you.