This 5-ingredient salmon is seasoned with an easy dry rub of chili powder and smoked paprika. Made with pantry staple ingredients, no added oil, AND in less than 30 minutes! This recipe is dairy and gluten-free and Paleo and Whole30 friendly, too. Enjoy alongside our Cilantro Lime Black Bean Salad or atop a salad.
Servings: 2
Serving Size: 118g cooked salmon
Prep Time: 5 minutes
Total Time: 25 minutes
Nutrition Facts: 247 calories / 1g carb / 30g protein / 12.5g fat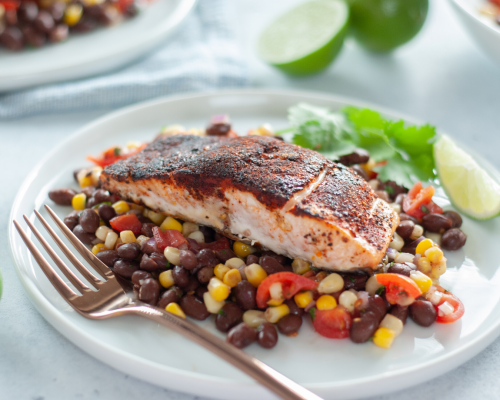 Ingredients:
1 teaspoon smoked paprika
½ teaspoon chili powder
¼ teaspoon salt
¼ teaspoon pepper
283g (10oz) raw Sockeye salmon
Instructions:
Combine spices in a small bowl.
Preheat oven to 425 degrees. Line a baking sheet with foil.
Rub the salmon with the spice mixture.
Heat a dry skillet over medium-high heat. When hot, sear salmon in the skillet (about 1 minute per side) or until browned but not burned.
Remove salmon from heat and place in the prepared baking dish, skin side down. Bake for about 15 minutes or until cooked through. The cooking time depends on the thickness of the fillet, so increase if it's thicker than 1 inch, or decrease if it's thinner.
Enjoy!
Notes:
This recipe was created using raw skin-on salmon. The "serving size" portion is for cooked salmon with skin removed.
This spice rub does have a little bit of heat to it. To decrease the spiciness, use ¼ teaspoon chili powder instead.
This salmon would also be delicious cooked outside on the grill!
Make this a meal! This Smoky Baked Salmon with our Cilantro Lime Black Bean Salad is all that and more. Throw together the confetti-inspired corn and black bean side in 10 minutes while the salmon is baking. This fresh, whole food-based meal is on the table in 30 minutes or less!