Winner winner plant-based dinner! This 30-minute Quick Sweet Potato and Black Bean Chili has all the hearty chili flavor we know and love. You won't even miss the meat! It's great for meal prep too – this recipe is easy to multiply and freezes really well. Top with shredded cheese, tortilla strips, avocado, or a dollop of plain Greek yogurt for a next level chili experience.
Servings: 5
Serving Size: just over 1 ½ cups (352g)
Prep Time: 5 minutes
Total Time: 30 minutes
Nutrition Facts: 262 calories / 46g carbs / 11.5g protein / 4.5g fat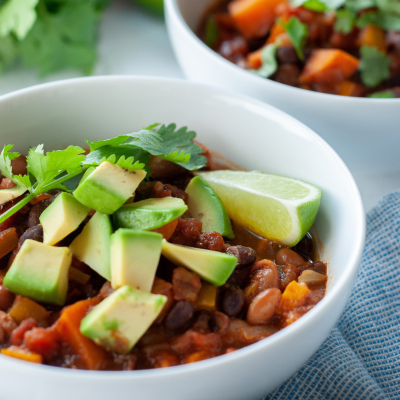 Ingredients:
1 tablespoon canola oil
1 cup (240g) chopped yellow onion
2 cups (136g) chopped bell pepper (any color)
1 tablespoon chili powder
1 tablespoon ground cumin
1 teaspoon garlic powder
½ teaspoon salt
1 28-oz can (380g) petite diced tomatoes (not drained)
1 ½ cups (200g) sweet potato (peeled and diced into ½-inch cubes)
1 14-oz can (425g) black beans (rinsed and drained)
1 14-oz can (442g) pinto beans (rinsed and drained)
1 cup (220g) vegetable broth
Optional garnishes: cilantro, sour cream, plain Greek yogurt, avocado, cheese, tortilla strips, diced onions (macros not included)
Instructions:
Heat canola oil in a large pot or Dutch oven over medium heat. Add onions and bell peppers to the pan along with the chili powder, cumin, garlic powder, and salt. Saute for about 5 minutes or until onions are translucent and spices are fragrant.
Add the canned tomatoes, beans, vegetable broth, and sweet potato to the pot. Bring to a boil, reduce heat to medium-low, and cover.
Simmer for about 15-20 minutes or until the sweet potatoes are tender. Garnish with your favorite toppings. Enjoy!
Store leftovers in an airtight container in the refrigerator for 3-5 days or the freezer for up to 3 months.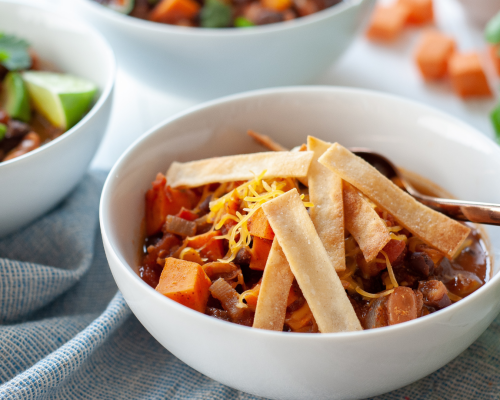 Notes:
You can substitute chicken broth for the vegetable broth.
---
Some of the links above are affiliate links, which may earn Macrostax a commission at no extra cost to you.