These flapjacks are super quick, high in protein, and filled with delicious cinnamon flavor. Cook them in a skillet or make a portable "microwave mug" version on your way out the door. Sliced banana, maple syrup, and nut butter take these to the next level, but they're the perfect canvas for whatever toppings your heart desires. Yum!
Servings: 1 (3 4-inch flapjacks)
Prep Time: 15 minutes
Nutrition Facts: 225 calories / 33g carbs / 20g protein / 1.5g fat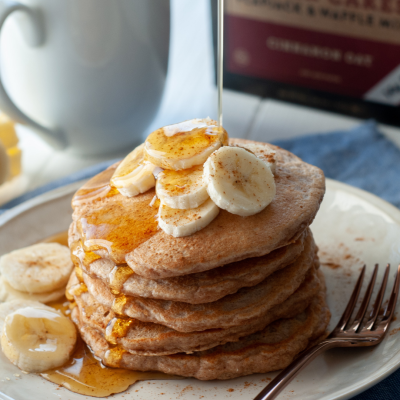 Ingredients:
⅓ cup (53g) "Kodiak Cakes" Power Cakes cinnamon oat flapjack and waffle mix
3 tablespoons (46g) 100% egg whites
2 tablespoons (31g) fat-free milk
Instructions:
In a small bowl mix together the flapjack mix, egg whites, and milk with a fork.
Preheat a nonstick skillet over medium heat. Spray with nonstick cooking spray. When heated, spoon about ¼ cup of mix into the center of the skillet (or more, if you prefer larger flapjacks.) Cook for about 2-3 minutes, or until bubbles appear on the top. Flip and cook for another 2-3 minutes or until cooked through.
Repeat for the rest of the batter, making about 2-3 pancakes total, depending on the exact size.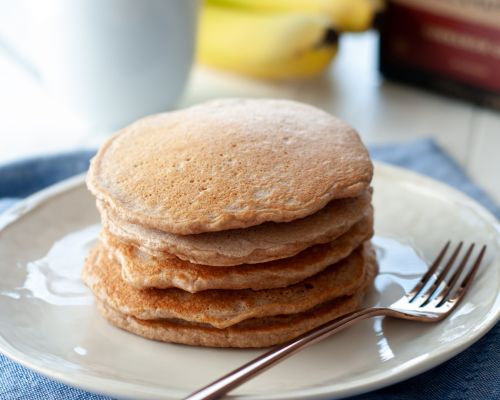 Notes:
Microwave instructions: mix all ingredients (plus 2 tablespoons water) together in a large mug. Microwave on high for 1 minute.
These macros do not include toppings. Delicious topping ideas are: maple syrup, fresh fruit, peanut butter (or, for a lower fat version try powdered peanut butter mixed with water), Greek yogurt, or cinnamon.
Feel free to substitute your favorite "Kodiak Cakes" Power Cakes mix flavor. The macros do vary slightly, although the macros for the buttermilk flavored mix are nearly identical to the cinnamon oat.
The pictured flapjacks are a double batch.
You can follow the package directions for preparation (reference macros on the package Nutrition Facts label), but we adjusted the milk and egg quantities because we love extra tall, fluffy flapjacks!