Meet your new favorite meal prep dinner! Whoever said that easy = bland hasn't met this sheet pan meal. A simple honey mustard glaze adds a tangy sweetness to baked chicken and veggies. Get all your carbs, protein, and healthy fat in one pan with this macro-friendly recipe!
Servings: 6
Serving Size: 3oz (85g) cooked chicken + 123g veggies
Prep Time: 5 minutes
Total Time: 40 minutes
Nutrition Facts: 364 calories / 29.5g carbs / 38.5g protein / 9g fat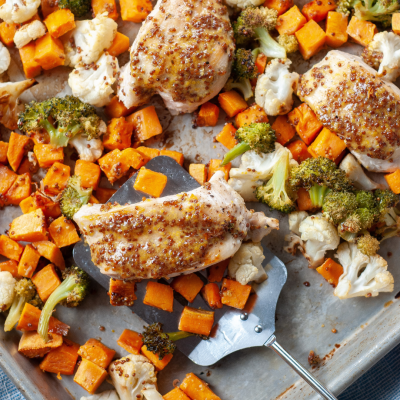 Ingredients
1 ½ lb (680g) raw chicken breasts
¼ cup whole grain mustard
2 tablespoons olive oil
1 ½ tablespoons honey
½ teaspoon salt
1 ½ bags (6 cups, or 510g) "Taylor Farms" mixed broccoli and cauliflower florets
4 ½ cups (604g) cubed sweet potato (diced into ½-inch pieces)
Instructions
Preheat oven to 375 degrees. Line a large baking sheet with foil or parchment paper and spray with nonstick cooking spray.
Trim the broccoli and cauliflower florets into bite-size pieces (if needed). Add the broccoli, cauliflower, and sweet potato to the baking sheet, spray lightly with nonstick spray, and bake for 15 minutes.
In the meantime, whisk together the mustard, olive oil, honey, and salt in a small bowl.
Cut each chicken breast into 2-3 pieces (so that each piece is about 3 inches wide). Season with salt and pepper. Sear in a hot, dry skillet for about 1-2 minutes per side or until golden.
After the veggies have cooked for 15 minutes, place chicken pieces on the prepared baking sheet along with the veggies. Top each chicken piece with a spoon of honey mustard sauce, and then drizzle the remaining sauce evenly over the vegetables.
Bake for 20-25 minutes or until the chicken is cooked through and the veggies are tender.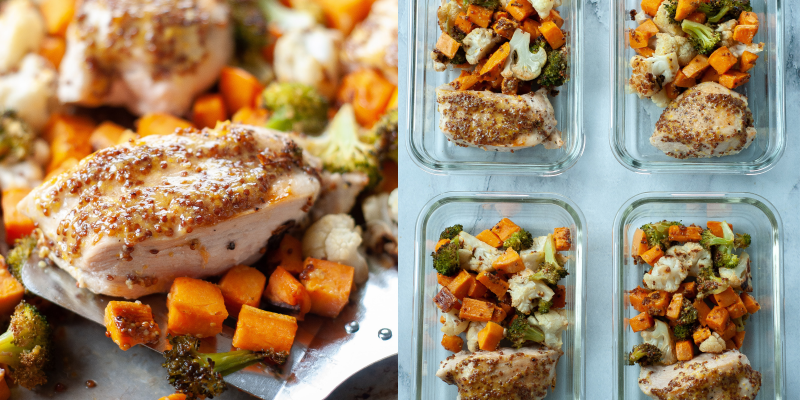 Notes
To add a touch of spiciness to this recipe, use whole grain Dijon mustard instead of regular whole grain mustard.
Searing the chicken before baking helps lock in moisture, ensuring juicy chicken every time. However you can skip the searing step – just make sure to increase the baking time by about 5 minutes.