Looking for a takeout fix that won't break the macro bank? This lightened up Shrimp Fried Rice is your new best friend. Ten ingredients, 30 minutes, and one pan is all it takes. With plenty of protein from shrimp, edamame and eggs, this flavorful (and naturally gluten and dairy-free) meal has your macros covered!
Servings: 4
Serving Size: about 1 ¾ cups (278g)
Prep Time: 5 minutes
Total Time: 30 minutes
Nutrition Facts: 482 calories / 44.5g carbs / 29.5g protein / 15g fat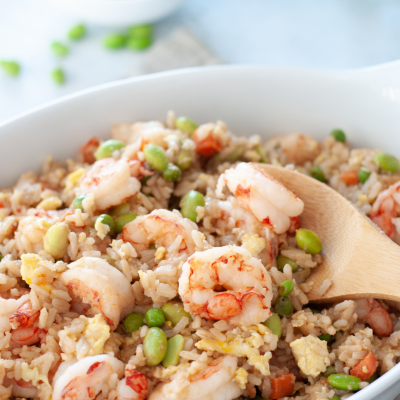 Ingredients:
2 tablespoons (64g) canola oil
4 tablespoons Tamari
1 lb (453g) raw shrimp, shelled and deveined
1 cup (160g) mixed frozen peas/carrots
1 cup (149g) frozen shelled edamame
3 garlic cloves (9g), minced
2 teaspoons ground ginger
3 cups (632g) cooked white rice
3 large eggs (150g), lightly beaten
1 teaspoon sesame oil
Instructions:
Heat 1 tablespoon of canola oil and 1 tablespoon of Tamari in a large skillet over high heat. Add shrimp to pan and saute for 3-4 minutes or until just cooked through. Remove from pan.
Add remaining tablespoon of canola oil and 3 tablespoons Tamari to the skillet and bring to high heat. Add frozen veggies, edamame, garlic, and ginger to the pan. Saute for about 10 minutes or until veggies are defrosted and heated through.
Add the rice to the pan and mix well with other ingredients. Cook another 2-3 minutes, until heated through.
Push the rice mixture to the side of the pan and turn the heat down to medium. Add the lightly beaten eggs to the skillet and cook, stirring occasionally, until scrambled.
Mix the eggs in with the rice and stir in the sesame oil. Return shrimp to pan and heat until re-warmed (do not overcook!). Enjoy!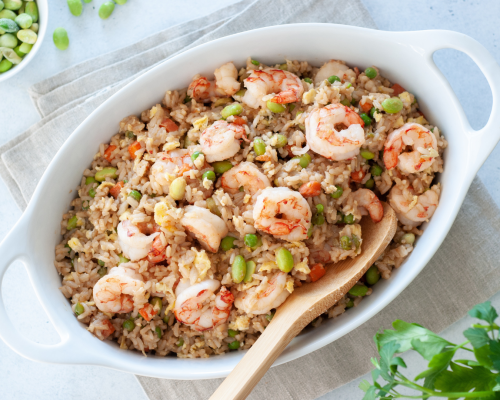 Notes:
This recipe would be delicious with added veggies such as sliced bell peppers, broccoli, or green beans. If you do add extra veggies, either extend the saute time or add them to the pan already cooked.
You can omit the sesame oil or substitute brown rice for the white rice (for very similar macros.)
You can use regular soy sauce instead of Tamari (which is a gluten-free version of soy sauce) if desired.