It's breakfast! It's dessert! It's Chocolate Peanut Butter Chia Pudding. Yep, that's right. We officially made "breakfast dessert" a thing and we're not one bit sorry. This high protein, naturally sweetened dark chocolate chia pudding is creamy, velvety, and the perfect base for your favorite mix-ins. Make a parfait with fruit, chocolate, or whipped cream to primp this recipe up for a special occasion. Or, you know, breakfast. You're welcome!
Servings: 1
Serving Size: 1 ½ cups (320g)
Prep Time: 5 minutes
Total Time: 65 minutes
Nutrition Facts: 362 calories / 29g carbs / 31.5g protein / 15g fat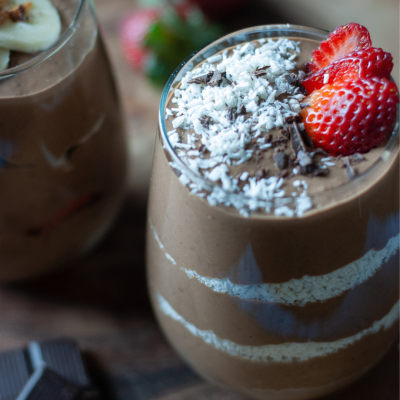 Ingredients
1 cup (245g) unsweetened almond milk
2 tablespoons (24g) chia seeds
¾ scoop (24g) "Vega Sport" vanilla performance protein
3 tablespoons (18g) "PB2" powdered peanut butter
2 tablespoons (10g) cocoa powder
½ teaspoon (3g) maple syrup
Instructions
Place the almond milk and chia seeds in a blender and blend on high speed for 30-60 seconds. Add the rest of the ingredients and blend until smooth.
If you don't have a blender, just mix all ingredients together with a fork or whisk.
Refrigerate for at least one hour or overnight. Top with fruit, nut butter, or any of the other delicious topping ideas below. Enjoy!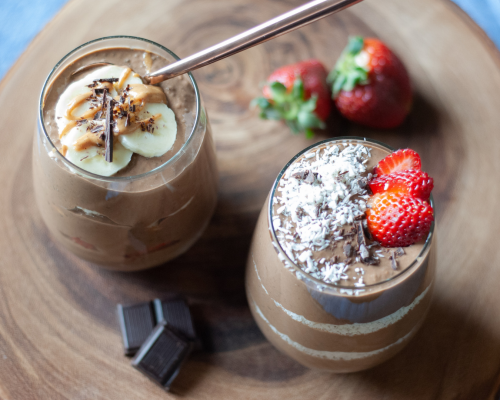 Notes
Toppings are not included in the macro calculations above. However, these would all be delicious: fresh fruit, shredded coconut, cinnamon, nut butter, whipped cream, Greek yogurt, granola, or mini chocolate chips.
Substitute any protein powder for the "Vega" Performance Protein. For reference: ¾ scoop has 2.5g carbs, 17g protein, and 1.5g fat. A chocolate flavored protein powder would also work well for this recipe!
Make a double or trip batch and store leftovers in an airtight container in the refrigerator for up to 5 days.
---
Some of the links above are affiliate links, which may earn Macrostax a commission at no extra cost to you.