This salad is so light and tasty! It is great to make ahead and take to work for lunch. The bold flavors in the zero-macros dressing add so much flavor, you'll be surprised at how nutritious and guilt free it is. Make two or four times the dressing and use on your favorite leafy greens, pasta, or roasted veggies. Store up to 10 days in an airtight jar in your refrigerator.
Servings: 1
Macros: 62g carbs / 29g protein / 9g fat / 445 calories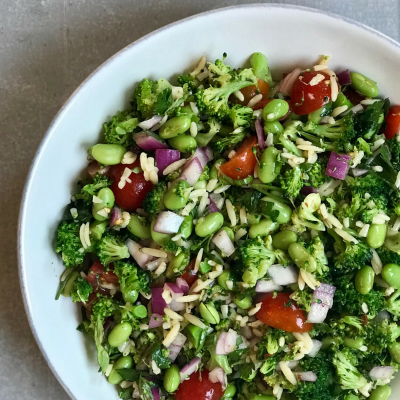 Ingredients:
Dressing:
1/4 cup Good White Wine Vinegar (I like to use a crisp Italian Pinot Grigio vinegar)
1 oz Water
1/2 tsp Salt
1/2 tsp Ground Mustard
1/2 tsp Italian Blend Seasoning
1/4 tsp Onion Powder
1/4 tsp Garlic Powder
1/4 tsp Paprika
1 packet (2g) Stevia Extract (sweetness balances the vinegar so you may want to use more depending on what you like)
Fresh Ground Pepper (about 1/2 tsp)
Salad:
28g Orzo Pasta (boil with salt per box directions to al dente, drained and chilled)
2 cups Chopped Steamed Broccoli (chilled)
62g Cherry Tomatoes (cut into quarters)
1.25 cups Edamame (shelled and chilled)
65g Red Onion (diced)
3 large or 5 small Fresh Basil Leaves (ribbon cuts)
1 tsp Fresh Tarragon Leaves (rough chop)
1/2 tsp Fresh Thyme( removed from stem and rough chop)
3 Fresh Chives (sliced thin)
1 tablespoon Fresh Parsley (rough chop)
Instructions:
Dressing:
Combine all ingredients in a mason jar and attach lid tightly.
Shake to combine.
Shake before each serving.
Salad:
Mix all chilled ingredients and herbs in a large bowl until combined. Pour in half of the dressing, a dash of salt and pepper and stir to coat salad evenly with dressing.
Add more dressing per your taste preference.
*Salad may soak up dressing while being stored. Use extra dressing prior to serving if desired.