Servings: 1
Macros: 30g carbs / 28g protein / 17g fat / 385 calories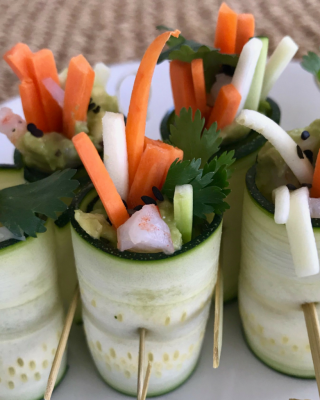 Ingredients:
* Save time on this recipe by using pre-cut carrots and precooked frozen shrimp
99g Shrimp
184g Match-Stick Carrots
170g Zucchini
101g Avocado
1/2 cup Cilantro (loosely packed, stems removed)
Salt & Pepper
1 Wedge of Lime
Instructions:
Lightly steam carrots – chill until completely cooled
Trim off smaller end of zucchini so that remaining portion is as even in size as possible. (save trimmed ends) The longer the remaining portions are the easier they are to roll.
Slice larger portions of zucchini using a mandoline on the 1/5 inch setting or using a sharp kitchen knife, slice into thin wide strips.
Cut saved zucchini ends into match-stick pieces. They should mimic the length and size of the carrots
Thaw frozen shrimp under cool running water (or per bag instructions). Remove shells, tails, and veins if applicable
Finely chop shrimp and store in fridge until time to use. (The smaller the chop the better)
Using a fork, mash avocado and add a small pinch of salt and pepper and the juice of one small lime wedge. Mix until creamy.
Assembling Your Rolls
Lay one zucchini slice vertical on non-stick surface (wood cutting board works great) with smallest end closest to you.
Spread avocado mixture on only half the zucchini slice. Follow with shrimp, carrots, zucchini, and cilantro leaves. Use small amounts of each and avoid over stuffing.
Firmly roll away from yourself and secure with a toothpick or sandwich pick. *The first one is always the hardest! But- it is pretty easy to get the hang of after that.
Garnish with sesame seeds and/or Sriracha if desired
---
Some of the links above are affiliate links, which may earn Macrostax a commission at no extra cost to you.