This broccoli salad and chicken Waldorf salad hybrid is a beautiful one-dish meal! Traditionally broccoli salad is tossed in a mayonnaise-based dressing but this version calls for a tangy maple mustard dressing instead. Cook a chicken breast on the weekend so it comes together super fast during the week. Better yet, prep the entire salad over the weekend!
Servings: 4 servings
Serving Size: 1.5 cups (192g)
Prep Time: 15 minutes
Nutrition Facts: 315 calories / 25.5g carbs / 21.5g protein / 14g fat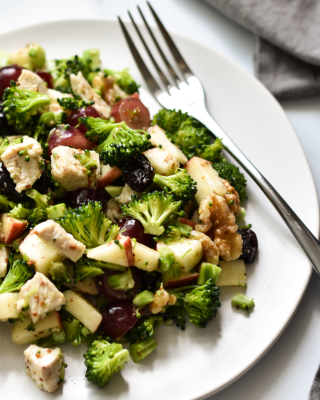 Ingredients:
1 tablespoon coarse ground mustard
1 tablespoon pure maple syrup
1 tablespoon apple cider vinegar
2 tablespoons extra virgin olive oil
2 ¼ cup (205g) broccoli florets and stems (finely chopped)
½ pound cooked (227g) boneless, skinless chicken breast (diced)
1 cup (151g) red grapes (halved)
1 small (112g) apple (diced)
⅓ cup (40g) unsweetened dried cherries
¼ cup (36g) walnuts
Instructions:
To make the dressing, combine mustard, maple syrup and vinegar in a large bowl and whisk to combine. Slowly stream in olive oil, while still whisking, until incorporated into the dressing. Season with salt and pepper to taste.
Add chopped broccoli, diced chicken, grapes, apples, cherries and walnuts to bowl with dressing and toss until completely coated. This salad can be served immediately or prepared in advance and chilled before serving. Garnish with additional walnuts or cherries (macros not included).
Notes:
Chop the broccoli very small since it won't be cooked in this salad.
Optional: toast the walnuts for extra flavor. Add to a dry pan over medium-low heat and shake occasionally until fragrant (about 4-5 minutes).
Salad can be served on its own, or wrapped in your favorite tortilla or lettuce cup (macros not included).
To make this recipe vegetarian or vegan, simply omit the chicken.