Satisfy your buffalo chicken wing craving with these high protein, low-fat buffalo chicken meatballs. Perfect for Sunday football or just an easy weeknight dinner, they are hands-off so you can get other things done while they cook. Make the optional low-fat yogurt dip for even more flavor!
Servings: 4
Serving Size: 4 meatballs (158g) with 2 tablespoons dip (40g)
Prep Time: 15 minutes
Total Time: 2 hours 15 minutes
Nutrition Facts:
Meatballs: 224 calories / 15.5g carbs / 31g protein / 4g fat
Dip: 19 calories / 2g carbs / 3g protein / 0g fat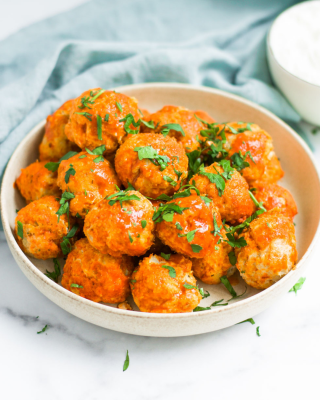 Ingredients:
Meatballs
1 lb (453g) ground chicken
1 egg (50g)
¾ cup (84g) "Progresso" plain bread crumbs
½ teaspoon garlic powder
½ teaspoon onion powder
¼ teaspoon salt
¾ cup (169g) "Franks" red hot buffalo wing sauce
Greek Yogurt Dip
½ cup (114g) plain fat-free Greek yogurt
1 tablespoon (15g) white vinegar
1 tablespoon (30g) nonfat milk
½ teaspoon garlic powder
⅛ teaspoon salt
Instructions:
Preheat the oven to 400F.
Make the meatballs: mix together all meatball ingredients except hot sauce. Form into 16 balls (about 2 heaping tablespoons each) and place on a parchment paper lined baking sheet. Bake for 8-10 minutes, just until meatballs are well formed and start to brown.
Place meatballs in the slow cooker. Add buffalo sauce, pouring evenly over meatballs. Cook on low for 2 hours. Serve with optional dip.
Meanwhile, if serving with dip: mix together all dip ingredients together in a bowl.
Notes:
Dip can be made in advance and stored in the fridge for 3 days.
Store leftover meatballs in the fridge for 3 days or freezer for 3 months.
---
Some of the links above are affiliate links, which may earn Macrostax a commission at no extra cost to you.