Stuck in a lunchtime rut? This spicy wrap will add some pep to your step! This quick meal comes together with just a few simple ingredients and is easy to customize based on what you have on hand.
Servings: 1
Serving Size: 1 wrap
Prep Time: 10 minutes
Nutrition Facts: 459 calories / 44g carbs / 36.5g protein / 13g fat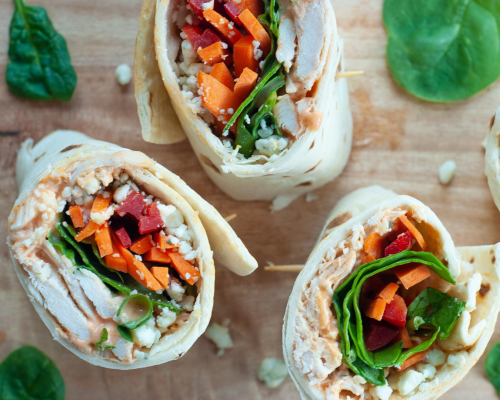 Ingredients:
3 oz (85g) cooked chicken breast (shredded or chopped)
2 tablespoons (32g) fat free "Hidden Valley" Ranch dressing
1 tablespoon (15g) "Frank's" red hot buffalo sauce
1 10-inch (70g) "Mission" flour tortilla
¾ oz (22g) crumbled blue cheese
½ cup (15g) leafy greens (baby spinach, Romaine lettuce, etc)
Instructions:
Mix the chicken together with the buffalo sauce and Ranch dressing in a small bowl.
Spoon the chicken into the middle of the tortilla. Top with the crumbled cheese, greens, and any other optional toppings (see Notes section below.)
Roll up and secure with a toothpick if needed.
Notes:
You can use any type of roasted or baked chicken breast for this recipe. Our favorite is rotisserie chicken breast!
Optional add-ins: diced tomato, sliced cucumber or celery, shredded carrots, sliced bell peppers, sprouts, or mushrooms (macros not included).