Add a boost of protein to your morning with our new take on a breakfast classic: EXTRA Creamy Oatmeal! This stovetop oatmeal is super cozy and satisfying thanks to a secret (and tasteless) high protein ingredient. Even better still? Toppings!
Servings: 1
Prep Time: 5 minutes
Total Time: 15 minutes
Nutrition Facts: 295 calories / 38g carbs / 27g protein / 3g fat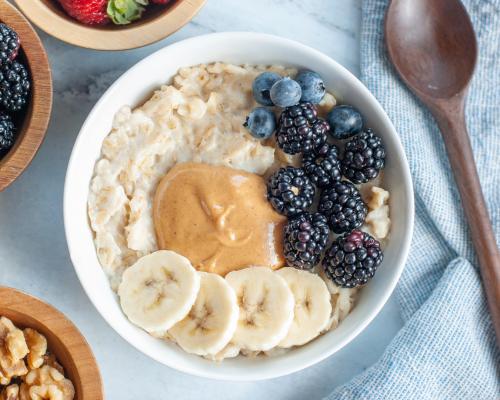 Ingredients:
½ cup old-fashioned oats
1 cup fat-free Fairlife ultra-filtered milk
⅓ cup egg whites
1 teaspoon honey
Sprinkle of cinnamon
Pinch of salt
Optional toppings: fresh fruit, honey, nut butter, granola (macros not included)
Instructions:
Heat the milk in a small saucepan over medium heat. Stir occasionally to prevent the milk at the bottom from scalding. When the milk is steaming add the oats.
Bring to a gentle boil and then reduce the heat to low. Cook for 10-15 minutes, stirring occasionally, until most of the liquid is absorbed and the oats are soft.
Add the egg whites slowly, while stirring constantly. It is important to stir while you add the egg whites to avoid scrambled eggs. Continue to stir as you add the honey, cinnamon, and salt.
Cook for another 1-2 minutes or until the oatmeal is thick and creamy. Serve warm with your favorite toppings (macros not included).
Notes:
To make dairy-free substitute unsweetened almond milk for the Fairlife milk.