A spicy twist on traditional comfort food, this buffalo mac and cheese is a combo of two American favs — macaroni and cheese and buffalo wings. It's lightened up with some secret ingredients to make it high protein, lower fat, and uber satisfying.
Servings: 8
Serving Size: 1 cup (187g)
Prep Time: 15 minutes
Total Time: 40 minutes
Nutrition Facts: 325 calories / 40g carbs / 18g protein / 10.5g fat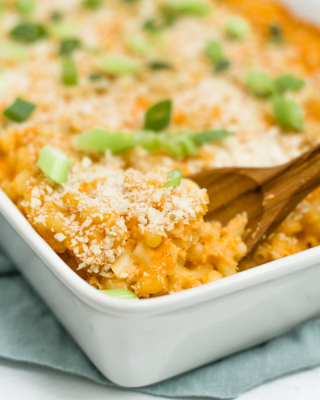 Ingredients:
12-ounces (340g) uncooked elbow macaroni
1 cup (240g) fat-free cottage cheese
2 tablespoons butter
1 ½ cups (368g) nonfat milk
¼ cup (31g) flour
1 teaspoon garlic powder
1 teaspoon onion powder
2 cups (224g) reduced-fat shredded sharp cheddar cheese
½ cup (120g) Franks Red Hot Wing Sauce
¼ cup (15g) panko bread crumbs
2 tablespoons (14g) crumbled blue cheese
Instructions:
Preheat the oven to 375 degrees. Prepare medium (about 8 x 11-inch) baking dish with nonstick cooking spray.
Cook the pasta according to package directions. Drain and set aside.
While the pasta is cooking, make the cheese sauce. Start by blending cottage cheese in a blender until smooth.
Heat butter in a large pot over medium heat. Once melted, add skim milk and blended cottage cheese and stir to combine. Add the flour, garlic powder, and onion powder and whisk regularly until the sauce begins to thicken, about 5 minutes. Remove the pot from heat and add cheddar cheese, stirring until cheese is melted. Add hot sauce and cooked macaroni to cheese sauce, stir until the sauce evenly covers the pasta.
Transfer the macaroni mixture to the prepared baking dish. Top with panko bread crumbs and blue cheese.
Bake for 20-25 minutes, until topping is golden brown. Serve with optional green onions or parsley garnish (macros not included).
Notes:
Store leftovers in an airtight container in the fridge for up to 3 days or in the freezer for up to 3 months.