It's a golden-state burger with a laid-back vibe! Bite into a lean chicken patty topped with melty cheese, thick slices of tomato, crispy lettuce, and – of course – a generous serving of avocado.
Servings: 4 servings
Serving Size: 1 burger (236g)
Prep Time: 15 minutes
Total Time: 25 minutes
Nutrition Facts: 509 calories / 42.5g carbs / 38.5g protein / 20g fat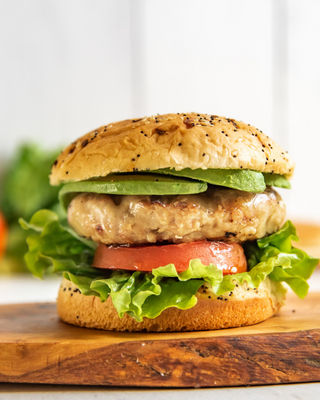 Ingredients:
1 lb (453g) raw ground chicken breast
1/2 cup (60g) panko breadcrumbs
2 tablespoons (30g) light mayonnaise
1 tablespoon (15g) Dijon mustard
1 clove garlic (minced)
1/2 teaspoon salt
1/2 teaspoon crushed red pepper flakes (optional)
4 slices (84g) sharp white cheddar slices
4 buns (212g) 'Ballpark' hamburger buns
4 large leaves (30g) butter lettuce (torn into bite-sized pieces)
4 slices (130g) ripe tomato
1 medium (200g) avocado (sliced)
Instructions:
In a large bowl, combine ground chicken, breadcrumbs, mayonnaise, mustard, garlic, salt, and pepper flakes (optional), and mix until just combined. Divide into 4 equal-sized patties, using your thumb to make a slight indent in the center of each (this will help the burgers cook more evenly)
Heat a large skillet over medium-high heat and spray with nonstick cooking spray. When the pan is hot, add patties and cook, flipping halfway through, until golden-brown on the outside with an internal temperature of 165 degrees F – about 8-10 minutes total. When there is about 1 minute of cook-time remaining, add a slice of cheese to the top of each burger to get nice and melty
Remove patties from heat and allow them to rest as you assemble the burger. Toast buns, if desired, and then layer lettuce, tomato, patty and avocado. Serve with ketchup, mustard, additional condiments as preferred, macros not included.
Notes
Burgers are best when assembled just before eating. Cooked patties may be stored separately in the fridge in an airtight container or sealable bag for up to 3 days.
If you have a cast-iron skillet, use it! The cast iron will give your burgers a lovely char
Cooked or uncooked patties may be frozen for up to 4 months. To freeze, stack between squares of parchment paper in a freezer-safe container or sealable bag. To re-heat, thaw in the fridge overnight and reheat on the stovetop or in the microwave.
Use any brand of bun or thinly sliced cheese but know that macros may vary.