This fresh and colorful meal prep lunch relies on pre-cooked chicken and store-bought dressing so it comes together fast.
Servings: 2 servings
Serving Size: 300g
Prep Time: 20 minutes
Total Time: 20 minutes
Nutrition Facts: 368 calories / 31.5g carb / 22.5g protein / 11.5g fat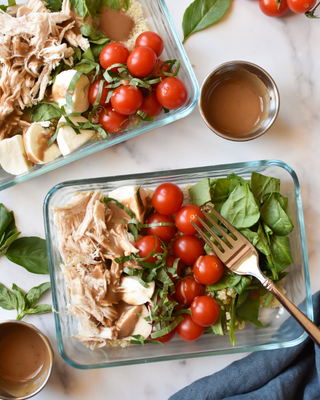 Ingredients:
1/2 cup uncooked quinoa (85g)
1 cup fresh baby spinach (30g) (roughly chopped)
1 small fresh mozzarella ball (35g)
1 cup pre-cooked chicken breast (115g)
1 cup cherry tomatoes (149g)
4 leaves basil (thinly sliced)
2 tablespoons "Annie's" balsamic vinaigrette (29g)
Instructions:
Cook quinoa per package directions.
Divide the ingredients between two bowls or meal prep containers, layering them in this order: cooked quinoa, spinach, chicken, tomatoes and basil. Drizzle with the balsamic vinaigrette dressing just before serving.
Notes
The mozzarella can usually be found in the deli section of the grocery store in a round plastic canister filled with liquid. You can also buy the mini size if you find it.
Substitute any brand of balsamic vinaigrette. Macros will vary across brands.