This tasty breakfast bar has all of the warming flavors of carrot cake, but in oatmeal form! Just mix together a few simple ingredients and breakfast is prepped for the week.
Servings: 6 servings
Serving Size: 1 bar (149g)
Prep Time: 5 minutes
Total Time: 45 minutes
Nutrition Facts: 310 calories / 38g carbs / 21g protein / 9g fat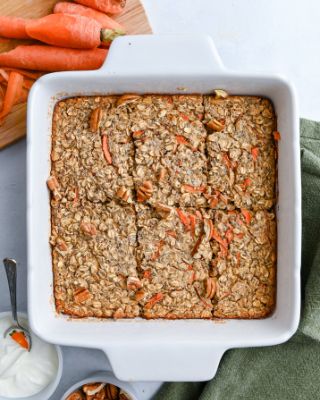 Ingredients:
2 cups dry (160g) old-fashioned rolled oats
¼ cup (48g) chia seeds
2 scoops (62g) "Optimum Nutrition Gold Standard 100% Whey", vanilla ice cream flavor
1 teaspoon baking powder
1 teaspoon ground cinnamon
½ teaspoon nutmeg
¼ teaspoon salt
1 cup (244g) 2% milk
1 cup (255g) whole milk plain Greek yogurt
2 large (100g) eggs
¼ cup (80g) maple syrup
1 cup (110g) grated carrots
Instructions:
Preheat the oven to 350 degrees F. Lightly coat an 8-inch x 8-inch baking dish with nonstick cooking spray.
In a large mixing bowl, stir together the rolled oats, chia seeds, protein powder, baking powder, cinnamon, nutmeg, and salt.
In a separate bowl, whisk together the milk, Greek yogurt, eggs, and maple syrup.
Stir the wet ingredients into the dry ingredients.
Fold the grated carrots into the oatmeal.
Pour the oatmeal into the baking dish. Bake for 35-40 minutes, until a toothpick inserted in the center comes out clean. Let cool for 10 minutes before serving.
Garnish with pecans, Greek yogurt, and a dash of cinnamon. Macros will vary.
Notes
This oatmeal is lightly sweetened. For sweeter bars, increase the maple syrup to ⅓ cup or serve with a drizzle of maple syrup. Macros not included.
Use any variety of Greek yogurt but know that macros will vary with substitutions.