A variety of fresh and colorful veggies make this a vibrant and nutrient-packed dish easy to make and fun to eat. Serve it up to the fam or bring it as a side to your next picnic potluck.
Servings: 6 servings
Serving Size: 1 1/2 cups (230g)
Prep Time: 10 minutes
Total Time: 15 minutes
Nutrition Facts: 315 calories / 39.5g carbs / 27.5g protein / 8g fat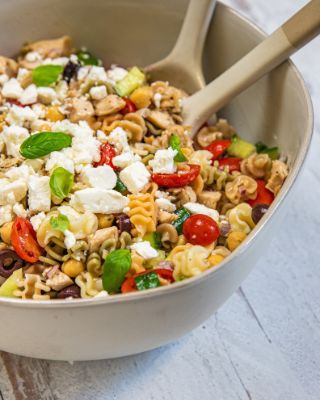 Ingredients:
8-ounces (224g) dry rotini pasta
12-ounces (340g) cooked chicken breast (diced)
1 cup (164g) canned chickpeas (rinsed and drained)
½ cup (70g) red onion (finely diced)
½ large (180g) English cucumber (diced)
½ cup (80g) pitted Kalamata olives (sliced)
¾ cup (84g) 'Athenos' reduced fat crumbled feta cheese
1 cup (149g) grape tomatoes (halved)
¼ cup (60g) 'Bolthouse 'Italian dressing
½ cup chopped fresh basil
Instructions:
Cook pasta in a large pot of generously salted water according to package instructions. Drain and rinse well with cold water. 
Transfer cooled pasta to a large salad or serving bowl and toss with all remaining ingredients.
Serve cold or a room temp, garnished with additional herbs, if desired.
Notes
This recipe can be made with any pasta of your choice, but we find that the best options are bite-sized pastas that are sturdy enough to hold their shape after a day or two in the fridge. Penne, fusilli, rotini, radiatore, or farfalle are all good options.
Pasta salad can be kept in an airtight container in the fridge for up to four days.
Use any brand of Italian dressing or vinaigrette but know that macros will vary.