Fresh citrus and avocado accompany quick-cooked shrimp for a delicious lunch or light dinner.
Servings: 4 servings
Serving Size: 1 (213g) salad with about 7 (68g) shrimp
Prep Time: 5 minutes
Total Time: 25 minutes
Nutrition Facts: 300 calories / 23g carbs / 20.5g protein / 14g fat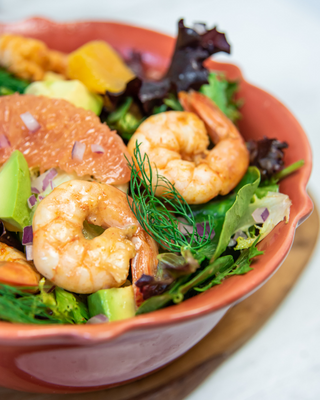 Ingredients:
1 lb (453g) raw shrimp (peeled, deveined, tail on)
4 tablespoons (60g) "La Tourangelle" citrus chipotle dressing (divided)
2 tablespoons (31g) fresh orange juice
1 teaspoon smoked paprika
5-ounces (142g) mixed greens of choice
1 medium (200g) grapefruit (cut into segments)
2 small (180g) oranges (cut into segments)
1/2 cup (70g) red onion (finely diced)
1 (201g) ripe avocado (diced)
1/4 cup (5g) fresh dill sprigs
Instructions:
Place shrimp in a sealable bag with 2 tablespoons of the citrus dressing, 2 tablespoons orange juice, and paprika. Toss to coat. Let shrimp marinate in the fridge for 15-20 minutes.
Heat a large nonstick skillet over medium high heat and add shrimp. Cook shrimp in a single layer until pink and curled (about 2 minutes per side).
Toss greens, grapefruit, orange, red onion, and avocado together in a large bowl. Divide salad across bowls and top with equal portions of shrimp. Drizzle with remaining dressing. Garnish with dill and enjoy!
Notes
Salad will keep in an airtight container in the fridge for up to 3 days, but avocado is best added just before eating.
Feel free to substitute another citrus dressing of your choice (macros will vary)
Cutting citrus into segments can be a messy process – hold your orange over a bowl as you work to catch all the drips, then use the gathered liquid in the marinade.
Short on time? Buy your grapefruit segments pre-cut in the produce section of the grocery store.