We get it. Finding the motivation to cook can be a struggle sometimes. But on those days when time and energy are running low, just grab a bottle of dressing, a handful of veggies and your trustiest sheet pan! Enjoy a healthy and delicious salmon dinner in just a few easy steps and revel in an evening with virtually no clean up!
Servings: 4 servings
Serving Size: 1 (110g) salmon filet, 1 cup (98g) mixed vegetables
Prep Time: 5 minutes
Total Time: 30 minutes
Nutrition Facts: 294 calories / 17g carbs / 26.5g protein / 13g fat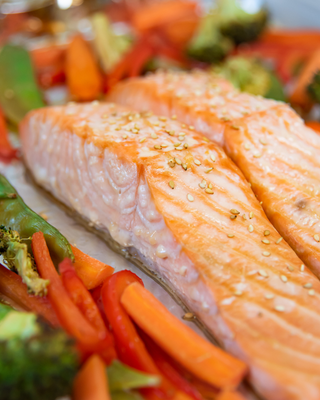 Ingredients:
1 lb (448g) skinless Atlantic salmon filets
6 tablespoons (90g) 'Litehouse' sesame ginger dressing (divided)
1/2 cup (80g) snow peas
2 cups (182g) broccoli florets
1 (145g) red bell pepper (sliced)
6-ounces (170g) baby carrots
Instructions:
Preheat the oven to 425 degrees F and line a rimmed baking sheet with parchment paper or aluminum foil.
Place salmon filets in a large sealable bag with 2 tablespoons of the sesame ginger dressing and gently turn to coat. Place in the fridge to marinate while you prepare the vegetables.
Place snow peas, broccoli, bell pepper, and carrots on the prepared baking sheet and drizzle with the remaining 4 tablespoons of dressing. Toss to coat then spread in an even layer across the baking sheet. Bake in the oven for 7 minutes.
Remove the baking sheet from the oven and gently push the vegetables towards the sides of the baking sheet, creating an open space in the middle. Remove salmon filets from their marinade, letting any excess liquid drip off, and place them on a baking sheet with the vegetables. Return the tray to the oven and bake for an additional 15 minutes, or until salmon is cooked through.
Notes
The length of time needed to cook the salmon may vary based on the salmon's thickness. If you find that your salmon is done but your vegetables still need more time, simply remove the salmon with a spatula, transfer to a plate, and cover lightly with foil until the vegetables are cooked to your liking.
Salmon will keep in the fridge in an airtight container for up to 4 days.
Use any brand of dressing for this recipe that might compliment the fish and vegetables. Macros will vary across brands.